Chile reopens market for Paraguayan beef after a twelve-month ban
Wednesday, November 21st 2012 - 08:03 UTC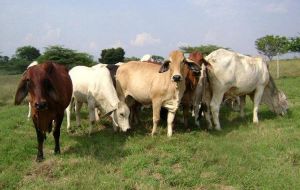 Chile has re-opened its market to Paraguayan beef announced on Tuesday to his peers Sixto Miranda, head of the country's Rural Society, following a meeting with Foreign Minister Jose Fernandez Estigarribia.
"The Foreign minister Fernandez Estigarribia authorized us to release the news that Chile will resume purchases of Paraguayan beef this week" said Miranda. This is based on an official communication from the government of Chile and is "great news for farmers given the purchasing power of the Chilean market".
Paraguay suffered an outbreak of foot and mouth disease last year and was banned from selling beef to foreign markets.
Miranda said that the reopening of the Chilean market means "better prices, because Chile pays higher prices and money is collected faster since shipping the beef by truck doesn't take more than a week and to Russia (by sea) is two months".
"Chile is also positive for the domestic market since they take the expensive cuts and the others remain for consumption at home, and with more cattle slaughtered supply increases", argued Miranda.
However Miranda also pointed out that the cattle industry has recovered significantly since the FMD outbreak of September 2011, because this year shipments of meats in volume and income are already higher than those of last year and could be heading to a record year surpassing 2010 when Paraguay exported 920 million dollars.
In the first ten months of the year, according to official data from Senacsa (Animal health and food quality service) meat and sub-product exports totalled 907 million dollars. More specifically with beef the volume was 140.327 tons valued at 692 million tons.
Paraguay managed to become the main supplier of beef to Chile, with 69% of the market displacing such big heavyweights as Argentina, Brazil and Australia. Before 2011 beef sales to Chile averaged 500 million dollars a year. Last August a sanitary mission from Chile, including several vets visited Paraguay and audited the whole process from the farms to the abattoirs before giving the green light to resume exports.
Paraguay's other two big markets for beef are Russia and Brazil.