Argentina's outbursts backfire: Judge Griesa orders payment to holdout bond investors
Thursday, November 22nd 2012 - 14:50 UTC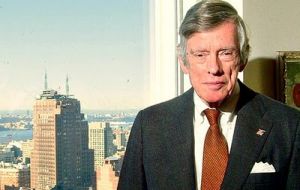 Argentina suffered a stinging blow late Wednesday when New York federal judge Thomas Griesa, citing threats by the country's leaders to defy his rulings in a decade-old dispute over defaulted sovereign bonds, ordered immediate payment.
In a ruling the US District Judge rejected Argentina's request to maintain his previous order halting payments to holdout investors who did not participate in two bond exchanges of defaulted sovereign debt.
The ruling is the latest development in a litigation saga that has lasted more than ten years and now appears to be favouring holdout bond investors such as Elliot Management Corp's NML Capital Ltd and Aurelius Capital Management.
If Griesa's ruling is upheld and Argentina chooses to defy him, US courts could ultimately inhibit debt payments to creditors who accepted the terms of the restructuring, out of consideration for investors who rejected Argentina's terms at the time.
This would trigger a technical default on approximately 24 billion dollars worth of debt issued in the 2005 and 2010 exchanges.
Last week, Argentina, which defaulted on its bonds in 2002, asked Griesa to keep his stay order in place while the US 2nd Circuit Court of Appeals for New York considered the country's request for a revisitation of an unfavourable ruling in October.
Griesa wrote that he would ordinarily leave his order in place pending a ruling from the 2nd Circuit. However, he concluded this was not possible given comments from Argentine officials, including President Cristina Fernandez, that Argentina would not pay anything to the holdout bondholders.
"It is the view of the District Court that these threats of defiance cannot go unheeded, and that action is called for," Griesa wrote, saying the payments should be made as soon as possible.
The 2nd Circuit already upheld Griesa's February 23, 2012 decision that Argentina violated equal-treatment provisions for all creditors when it chose to pay exchange bondholders and not holdout bondholders.
Given that Griesa's latest decision still needs the final blessing of the 2nd Circuit, he ordered that rather than Argentina paying the plaintiffs directly, it should deposit the money in an escrow account by December 15.
There was no official immediate reaction from the Argentine Executive but for the head of the Lower House block Agustin Rossi who accused Judge Griesa of 'systematically acting against the recommendations of the Federal Reverse and in favour of the investment or 'vulture' funds'.
"It is a decision that only merits criticism and repudiation", said lawmaker Rossi.
"This financial speculation policy of creditors should be condemned not only by us but by the international community" said Rossi who nevertheless admitted "not knowing the technicalities of the ruling and thus I'm only giving a personal opinion".
Finally he 'absolutely supported' the decision of Nestor and Cristina Kirchner of restructuring Argentina's sovereign debt, in two stages (2005 and 2010) to which adhered 91% of bondholders".