Bolivia formally invited to join Mercosur as full member at December's summit
Thursday, November 22nd 2012 - 13:55 UTC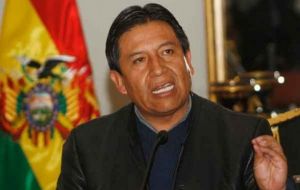 Bolivia was formally invited to join Mercosur as a full member for which negotiations can begin in the coming summit December 7 in Brasilia. The invitation was made official by Mercosur High Commissioner Ivan Ramalho during a visit to La Paz where the met with Foreign minister David Choquehuanca and Economy and Planning ministers Luis Arce and Viviana Caro.
"Once Bolivia makes a decision in the comino Mercosur summit in Brasilia, December 6 and 7, we will initiate the dialogue process, to work on the process", said Choquehuanca after meeting with the Brazilian diplomat.
Choquehuanca added that President Evo Morales will attend the meeting in Brasilia and report Bolivia' decision, although he pointed out that previous to that the country must consider the benefits of such incorporation.
Ramalho said that for Mercosur full members "it would be very important if Bolivia could join Mercosur" given the country's geographic situation in the heart of South America, according to the official Bolivia News Agency.
Bolivia is currently an associate member. Full members are Argentina, Brazil, Uruguay, Venezuela and Paraguay, although this last country has been temporarily suspended following the removal last June of Fernando Lugo from the country's presidency.
Chile, Colombia, Ecuador and Peru are also associate members of Mercosur. Venezuela became full member last July following the suspension of Paraguay the only country that did not support the incorporation as long as President Hugo Chavez is running the country.
The same Paraguayan Senate which impeached Lugo and had him removed from office almost unanimously also considers Chavez does not abide by the rule of democracy and many of his attitudes are authoritarian such as persecuting and closing media which does not follow his instructions.
From Asunción the government announced that it is preparing a formal complaint to be presented before international organizations claiming that inviting Bolivia to become a full member of Mercosur is another 'abuse and attack' on Paraguay.
Foreign minister Jose Feliz Fernandez Estigarribia met with the legal advisor of the ministry Mario Paz Castraing to draft the complaint which will be consulted with members from the Senate's Foreign Affairs committee.
"This is part of the political package sponsored by Argentina and Brazil which besides illegal is contrary to the Asuncion Treaty (founding charter of Mercosur", said Minister Fernandez Estigarribia.
According to the Mercosur founding charter and statute any new incorporation of full members must be decided unanimously by all full members of the group, which did not happen with Venezuela or with the invitation to Bolivia, since Paraguay was suspended and could not vote.