Hamburg tribunal confirms hearings on ARA Libertad impounded at Ghana port
Thursday, November 22nd 2012 - 07:38 UTC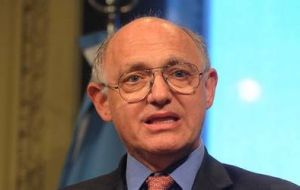 The Law of the Sea Tribunal in Hamburg confirmed the oral hearings' date for 29 and 30 November referred to the Argentine vessel ARA Libertad impounded and retained in Ghana since 2 October, with a previous day of consultations with both litigants on 28 November.
The announcement was made in a Wednesday release from Argentina's Foreign ministry which also mentioned that the Ghana magistrate, because of the Hamburg hearings, decided to postpone until 6 December the decision on the removal of ARA Libertad from her current docking at the country's main sea terminal Tema, another controversy issue between the two countries.
"The president of the Hamburg tribunal has requested both sides to abstain from taking any action susceptible of aggravating the controversy, a decision which acknowledges and responds to what Argentina presented in its demand on 14 November warning about the attitude of the Ghana port authorities harassing the frigate and its crew", added the release.
Since the impounding of the vessel on request from a New York court acting for investment fund NML Capital which demands payment of over 300 million dollars in Argentine sovereign bonds, the vessel has been docked at pier 11, which Ghana port authorities argue occupies valuable commercial space in an already congested terminal and demands it be removed to a less busy pier 6.
However Argentina has refused point blank to such move, with some skirmishes including the showing of rifles, and claims the Ghana authorities tried to push their point by cutting water, power and supplies to the frigate.
"Argentina also requested to expand its first presentation but the Ghana Judge denied it and thus Argentina will appeal to the Superior Tribunal".
Finally Argentina once again said it does not recognize any jurisdiction from Ghanaian courts to address the heart of the matter concerning the frigate, which is the reason why Argentina is demanding before the Hamburg's International tribunal, the lifting of the embargo illegitimately imposed by Ghana.