Roubini warns Argentina is heading for a highly vulnerable "State capitalism"
Friday, November 23rd 2012 - 01:46 UTC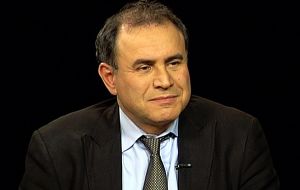 Argentina is adopting measures that impact negatively on investors and consumers confidence warned US economist Nouriel Roubini who became world famous for having anticipated the international crisis of the sub-prime mortgages and junk bonds.
"Argentina has moved away from market oriented policies with imports substitution protectionist measures; national control over natural resources; a more predominant role for state companies and banks and discouraging foreign investments and the influx of capital" said the economist who was especially invited to the annual convention of the Argentine Chamber of Construction in Buenos Aires.
"These policies have a negative impact for investors and consumers' confidence, which on the long run has its influence on growth".
Roubini who is a professor at the New York Leonard Stern School of Business warned that Argentina is heading towards "a State capitalism" which could make the country "more vulnerable to domestic and external shocks"
He also underlined that "there is more optimism in developed countries about the economic recovery" of those now troubled economies.
But nevertheless he pointed out to a raft of risks related to the Euro crisis, the slow growth in the US, deceleration of the Chinese economy and emerging countries and geopolitical factors mainly in the Middle East.
Nourini said that the economic, banking and fiscal crisis in the Euro-zone already has spread to seven countries (Cyprus, Spain, Slovenia, Greece, Ireland, Italy and Portugal) and will continue for a long time because of the convergence of the high private and government debt levels.
He anticipated that the situation would create a slowdown in Germany and France combined with a mediocre growth in the US and the fiscal cliff danger feared for 2013.
The US must also agree to a fiscal consolidation given that it faces an 8% GDP deficit and a debt level of 80% of GDP.
His economic overview also included China with a "non sustainable economic model" since from growing 10% annually this year it is expected to expand 7.5%.
"They save too much and consume too little. Private consumption is in the range of 35% of GDP when in any economy the level is 60% to 65%".
He added that even when the new Chinese leadership is aware of the problem, "my fear is that reforms are addressed at a slower pace than needed".
So China instead of a soft landing could be faced with a "forced landing" which could impact on the global economy.
Finally Nourini warned about the persistence of a 'geopolitical risk' emerging from tensions between Israel and Iran and the growing difficulties in several countries following the "Arab spring" which could have an impact on oil prices.