Argentina insists with Malvinas during UN ceremony with Ban Ki-moon
Saturday, November 24th 2012 - 15:34 UTC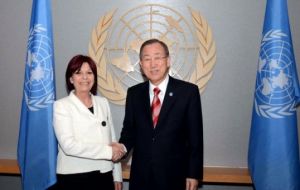 Argentina is strongly committed with multilateralism and trusts in the UN to reach a fair, peaceful and long lasting solution to the sovereignty dispute in the Malvinas issue, said Ambassador Maria Cristina Perceval during her Friday credentials presentation ceremony with Secretary General Ban Ki-moon.
Ambassador Perceval replaces Jorge Argüello currently ambassador in Washington, and when Argentina prepares to join the Security Council as a non permanent member next January and for two years.
"Argentina is strongly committed to multilateralism as the best reply to the challenges of peace and international security and other challenges such as the economic crisis that is shocking the world, sustainable development and the unrestricted respect for human rights" pointed out Perceval during the ceremony.
The new ambassador also underlined that "Argentina trusts in the UN action to reach a fair, peaceful and long lasting solution to the sovereignty dispute relative to the Islas Malvinas question".
Ban Ki-moon recalled the latest meetings with President Cristina Fernandez and praised her leadership in different fields of international relations. He also congratulated Argentina for having been chosen to join the Security Council and expressed his confidence on the constructive role that the country would display.
Ms Perceval insisting with the Malvinas issue said "it was a colonial situation characterized by the UN doctrine as 'special and particular' in the agenda of decolonization process".
"All the region in the framework of Unasur and Celac are closely following the good offices task entrusted to the Secretary General by the UN General Assembly to contribute to the resumption of negotiations with the UK to reach a solution to the sovereignty dispute over the Falklands/Malvinas, South Georgia and South Sandwich Islands and surrounding maritime spaces", said the Argentine diplomat.
Finally she underlined Argentina's full willingness to help the UN Secretary General in its current mission, "hoping that the UK complies with its obligation to establish a dialogue to solve this chronic colonial dispute".
Ms. Perceval served as Under-Secretary for Human Rights at the Ministry of Justice and Human Rights in Buenos Aires from 2010. In 2009, she was Under-Secretary for Institutional Reform and Strengthening of Democracy in the Argentine Presidency.
Elected Senator for the province of Mendoza in 2001, and re-elected in 2003, Ms. Perceval served in the Senate, the upper house of the Argentine National Congress, until 2009, during which time she presided over several committees, including the Committee on National Defence.
Before entering politics, Ms. Perceval was Professor of advanced epistemology at the National University of Cuyo from 1998 to 2001, having previously been Assistant Professor of the history of sciences, philosophy and metaphysics at the same institution between 1990 and 2001.
From 1988 to 1992, she was Project Director of Research on Epistemology, Gender Studies and Human Rights.
She founded and was Director of the Institute of Social Management at the University of Aconcagua. Ms. Perceval is married and has three children.