Brazilian Navy has its first woman two-star Rear Admiral
Saturday, November 24th 2012 - 15:28 UTC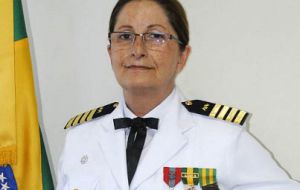 The Brazilian navy has its first woman two-star Rear Admiral, following the signing on Friday by President Dilma Rousseff of her promotion to the rank of Officer General of the Navy.
Dalva Maria Carvalho Mendes was born in Rio do Janeiro in 1956 and joined the Navy in 1981 with the first class of the Navy's Reserve Auxiliary Women's Corps. From 1981 to 2009 the now Rear Admiral worked at the Marcilio Dias Hospital where she reached the post of Deputy Director.
Currently she is Director of the Naval Clinic Our Lady of Glory. Dalva is a certified anaesthetist from the Brazilian Anaesthetics Society and has also been awarded the Naval Merit Order; the Tamandaré Merit Order and the Military Medal Gold class.
Since 1980 when the Brazilian navy opened its doors to women, several legal advances enabled women to be further involved in the service and currently can participate in the Engineers Corp; the Health Corps; in Maintenance and Technical divisions; in the Auxiliary Corps; the music division and with the Marines.