Ambassador Argüello says Argentina will not pay the price of the 'North's financial irrationality'
Monday, November 26th 2012 - 18:29 UTC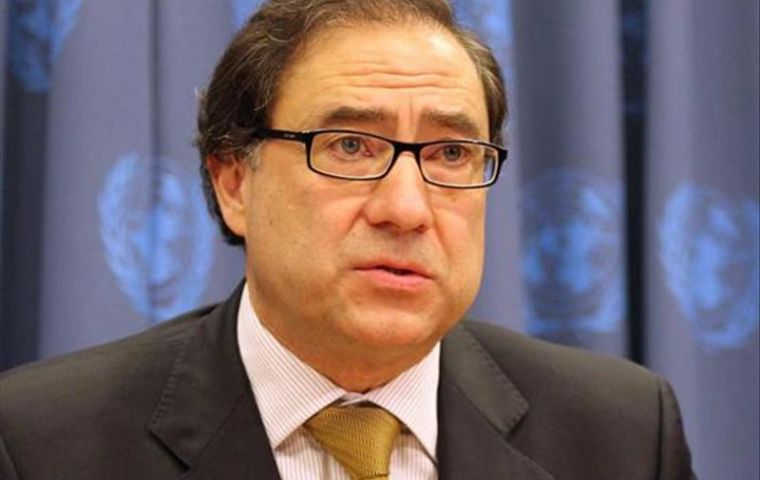 Argentina's Ambassador to the United States, Jorge Argüello, assured on Monday that "Argentina will not pay the price for the financial irrationality of the North", and under no circumstances "will tolerate the vulture funds' blackmailing."
The diplomat also stated that "Argentina has been following the rules of the international financial system. We've been paying with no delays to all our creditors of the 2001 defaulted debt."
"We will not tolerate the blackmails of NML Capital "vulture" fund, which rejected a debt restructure twice" underlined the ambassador.
The harsh words of the Argentine diplomat came in response to an editorial comment published by The Chicago Tribune in which the government of Cristina Fernández is accused of conducting "populist economic policies" that see "a country of such great economic promise swerving off the road to prosperity again."
Straight to the point the US newspaper bashed Cristina Fernández: "She restricted international trade, violated contracts and pumped out phoney data to disguise the soaring inflation her policies brought about. All the while she scored cheap political points by blasting the rich countries of the north for their supposed economic imperialism".
The controversy takes place when Argentina goes to an appeals court in New York to challenge the ruling of US Judge Thomas Griesa, who last week issued a decision that raised the spectre of a technical default.
A decade after committing the biggest sovereign default in history, Argentina faces another crisis after a US court ordered it to pay 1.3 billion dollars by December 15 to holders of defaulted bonds.
Last Wednesday Judge Griesa ordered Argentina to pay the holdouts. Rather than trying to chip away at the edges of Griesa's order, Argentina's lawyers plan to challenge this Monday the whole opinion in the US Second Circuit Court of Appeals.
About 93 percent of Argentine bondholders agreed in 2005 and 2010 to swap defaulted debt from the 2002 default for new paper at a steep discount. So-called "holdout" creditors who rejected the swaps continue to battle in the courts for full repayment.
The argument to be put forth by Argentina "is simple and compelling," said an article published in Página/12, a local daily newspaper with close ties to the Kirchner government.
"If the court accepts Griesa's view, no country will be able to successfully restructure debt, as Argentina did, with a significant reduction in interest and an extension of payment schedules," the story said.
"None of the owners of defaulted bonds would enter the exchange pending a court ruling that allows recovery of the whole of their claims," it said.
Griesa's decision on November 21 cited an appeals court ruling that said Argentina had discriminated against the holdouts. Now the Second Circuit Court of Appeals will decide if Griesa's order should be carried out, considering the ramifications to the financial system.
At stake for all exchange bondholders is a potential technical default on approximately 24 billion dollars worth of debt issued in the 2005 and 2010 exchanges. Principal and interest payments due to those bondholders next month total more than 3 billion.