Canadian considered G7 best central banker to lead Bank of England for next five years
Monday, November 26th 2012 - 19:04 UTC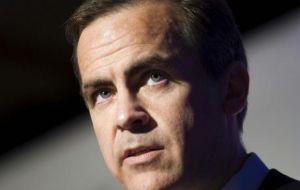 Mark Carney has been named as the new Bank of England governor, who will replace outgoing head Sir Mervyn King. The role of the governor is the most important unelected position in Britain, and is chosen by the British Government.
Mr Carney, 47 and a Canadian national, will take up his role on June 30 next year and will be the 120th governor since 1694. He is the first foreigner to be given the job and the Queen approved Mr Carney's nomination earlier today.
He was appointed governor of the Bank of Canada in early 2008, for a term of seven years. Mr Carney said he did not formally apply for the role - indicating he was head-hunted by Britain for the job.
"I am honoured to accept this important and demanding role" said Carney adding that "I was never going to be at the Bank of Canada forever."
Mr Carney was born in Fort Smith, in Canada's Northwest Territories, and received a bachelor's degree in economics from Harvard University in 1988. He received a master's degree in economics in 1993 and a doctorate in economics in 1995, both from Oxford University.
Prior to joining the Canadian civil service, Mr Carney had a 13-year career with investment bank Goldman Sachs in its London, Tokyo, New York and Toronto.
A father-of-four, his wife is a British national and his children all hold dual nationality.
"I am delighted to welcome Mark Carney as my successor. He represents a new generation of leadership for the Bank of England, and is an outstanding choice to succeed me. Since Mark became Governor of the Bank of Canada, I have worked closely with him and admired his contributions to the world of central banking, in which he is widely respected" said Sir Mervyn King.
Announcing the choice to the House of Commons, Chancellor of the Exchequer George Osborne said Mr Carney would apply for British citizenship, like all other applicants. The UK requires citizenship applicants to pass a multiple choice written test before undertaking a civil ceremony, typically at the resident's local town hall.
During Mr Carney's five years as governor in Canada, Mr Osborne said he was "acknowledged to have weathered the economic storm better than any other Western economy".
The term for a Bank governor is eight years, but the chancellor told Parliament that Mr Carney indicated he intended to serve for five years and to stand down at the end of June 2018. The governor of the Bank chairs the monetary policy committee, which has responsibility for setting interest rates in the UK.
Deputy Governor Paul Tucker who had been tipped for the role in recent months and "had been heading towards this role his entire career", in recent months was embroiled in the Libor scandal after email correspondence emerged between the bank and Barclay's Bob Diamond.