Falklands' March 10/11 referendum, a democratic exercise of self determination
Monday, November 26th 2012 - 07:19 UTC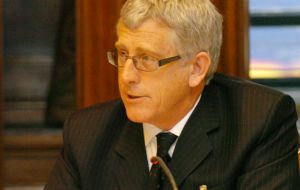 The Falklands referendum on March 10/11 is designed to simply ask the people of the Islands to state clearly their wishes regarding their political status, and this is supported by democratic practice, the UN guiding principle of self determination and even by Ban Ki-moon in recent reports in the Argentine press, said lawmaker Dick Sawle.
"The right of people to freely choose their own system of government is not only the fundamental principle of democracy but also the guiding principle of the United Nations", explained MLA Sawle who then referred to UN Secretary General statement reported by the Argentine press: "Ban Ki-moon: kelpers should be able to decide their own future" and published in La Nacion, 11 November 2012.
"Our referendum on the 10th/11th March next year is no more than the exercise of our basic and fundamental human rights. It will send a clear message to those who care to listen and those who do not wish to listen will be ignoring a fully democratic exercise", said Member of the Legislative Assembly Sawle, adding that "to deny that right is to deny fundamental democratic principles and to ignore the guiding principles of the United Nations".
"Sovereignty has to be accepted, respected and determined by the people".
MLA Sawle admitted that the Falklands' government is well aware that the administration of President Cristina Fernandez is involved in an urgent global campaign to try and discredit the referendum, --which they fear--, and will go to no end with that purpose in mind.
"Argentina simply wishes to own us and if they did, we would become a colony of Argentina, the reverse in fact of everything that modern democracies stand for".
Further on MLA Sawle said that the Argentine claim that the Falklands' people are a transplanted population is 'nonsense'.
"We have people in the Falklands whose families go back nine generations. Our home was settled naturally in a similar way to the rest of Latin America and we have people of many different nationalities living in the Falklands", but "nobody would try to claim that the other countries, including those within South America, do not have similar rights and history shows us that they have successfully exercised those rights".
Finally history teaches that those who govern must listen to the voice of the people and "to ignore the voice of the people, as all Argentines know from their own history and current difficulties, is a dangerous strategy".
Thus, according to MLA Sawle "it comes as no surprise to those of us who live in the Falkland Islands that the current Argentine government has no desire to listen to us or to engage with us in any form of discussion. It is no surprise therefore that they wish to ignore the voice of the Falkland Islands in the same way that they ignore the voice of their own people"