Argentina rejects UK complaints on maritime security regarding the Falklands
Tuesday, November 27th 2012 - 01:40 UTC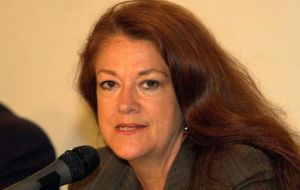 Argentine ambassador Alicia Castro rejected at the International Maritime Organization, IMO, British complaints on maritime security in Argentine waters and navigation obstacles for British and Falklands flagged vessels which access Argentine ports.
"Argentina has not incurred in any violation of its international commitments" said Ambassador Castro in reply to UK complaints during the opening of the 91st session period of the IMO Maritime Security Committee which took off Monday in London.
The British writ questioned provincial laws which impede the access to Argentine ports of vessels linked to the hydrocarbons exploration in Falklands' waters and at the same time filed a complaint regarding several actions which presumably would impact on the security and operation of British vessels in Argentina.
"Provincial legislation referred to by the UK which regulate navigation coastal navigation between continental Argentina and the Malvinas Islands have the purpose of protecting natural resources under its sovereignty and jurisdiction, as well as rejecting the illegitimate exploration and exploitation hydrocarbons activities displayed along the Argentine continental shelf", said ambassador Castro according to the Argentine Executive site.
In that context the ambassador recalled the numerous resolutions from the international community which call on Argentina and the UK to resume sovereignty negotiations over the Falklands/Malvinas Islands and in particular the UN General Assembly resolution which requires both sides to abstain from adopting decisions that imply unilateral modification to the situation in the Islands.
Reference to more specific claims by the UK delegation at IOM, the ambassador said "there is no evidence at the Argentine maritime authority that navigation security or of the vessels has been compromised".
"On this issue, no vessel requested for help in the framework of the IMO recommendations and mechanisms" insisted Castro adding that in relation to the CLARE vessel case, "Argentina presented documentation from the Coast Guard proving that such vessel effectively received assistance or a routine request for food and water".
As to British allegations referred to the violent actions committed by extremist groups against the offices of a maritime agency in Buenos Aires, the ambassador reported on the administrative and judicial actions undertaken by the Argentine Federal Police.
Finally as to union actions, denounced by the UK, allegedly involving maritime unions affiliates of the International Federation of Transport Workers, the Argentine ambassador argued that Argentina "respects unions' autonomy".
According to the Argentine version of the presentation, and reported in the Presidency webpage, Argentina received the emphatic and explicit support from nine countries belonging to the region, Brazil, Cuba, Chile, Ecuador, Guatemala, México, Peru, Venezuela and Uruguay, while the UK position "collected no adhesion from any of the 170 countries attending the meeting".