Mixed bag for Noble Energy: oil in Gulf of Mexico and plugged well in the Falklands
Tuesday, November 27th 2012 - 22:18 UTC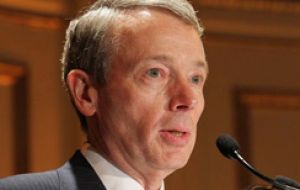 Noble Energy Inc. (NBL) unveiled a discovery in the Big Bend exploration area in the Gulf of Mexico as it also abandoned another well off the shore of the Falkland Islands that yielded a low-quality reservoir.
The results come as Noble shuffles its portfolio to focus on higher-profit areas. The Houston-based oil and gas producer has been selling its non-core assets to focus its spending on horizontal drilling operations in the US and offshore projects in Gulf of Mexico, the Mediterranean, and offshore West Africa.
The nearly 16.000-foot-deep well in the Gulf of Mexico's Big Bend area, which is located in 7.200 feet of water, has roughly 150 feet of net oil pay, Noble said. The Houston-based exploration and production company has a 54% working interest in the project, with W&T Offshore Inc. (WTI) holding another 20% stake.
Meanwhile, Noble said a deepwater well in the Scotia area off the coast of the Falklands revealed about 164 feet of low quality reservoir. The operator, Falklands Oil & Gas PLC, plans to plug and abandon the well, according to Noble.
As a consequence of the plugged well Falkland Oil & Gas PLC lost almost half of its value. The disappointing statement wiped 49% off FOGL volatile stock, sending its shares to an historic low of 51 US cents giving it a market value of 165 million dollars.
The stock price had hit a high of 4.28 dollars in July 2010.
FOGL, which is partnered with US firm Noble Energy and Italian utility Edison on the project, said a reservoir at its Scotia exploration well appeared to be of poor quality, with low permeability.
The collapse in the shares, however, came despite an insistence from the firm that it remained upbeat on its campaign, with further tests set to determine whether there was a higher quality reservoir elsewhere in the region.
"Today's much anticipated well results will come as a disappointment for investors in FOGL, following their gas find at the Loligo prospect in September," analyst Sam Wahab at Seymour Pierce said.
"The recent rally in the company's share price was in market expectation of an oil discovery, and on this basis we would expect FOGL's shares to fall this morning."
Gas, which has been found off the Falklands by Borders & Southern and FOGL at its Loligo well to the south of the Falkland Islands, is harder to extract and transport than oil.
Oil was found to the north of the Falklands in 2010 by Rockhopper Exploration, which has enlisted Premier Oil to fund development, while Desire Petroleum also confirmed the positive potential of its licence in the North Malvinas basin last week.