ARA Libertad can't be impounded according to IMO, says Ambassador Castro
Wednesday, November 28th 2012 - 23:11 UTC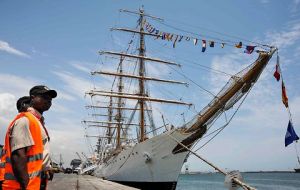 The International Maritime Organization (IMO) certified that the ARA Libertad frigate is a military vessel, therefore, it can not be impounded, Argentina's ambassador to the UK, Alicia Castro, reported.
The vessel does not have the commercial services registration number since it is a war vessel.
"The notification rules out the statements that had affirmed the vessel had a number of identification IMO, so it was defined as a services' ship", said Ambassador Castro in contact with the Argentine media.
The UN organization seated in London confirmed that the "IMO number 6125398 has not been designated to this war vessel, and not to other ships." This supports Argentina's position, in which the Libertad Frigate has immunity and can not be impounded.
The ARA Libertad frigate has been retained at the Tema port since Ghana since 2 October following an impound order from a local Judge on request from a New York court ruling favouring the NML Capital Investments hedge fund.
The impound litigation will be considered on Thursday and Friday at the Hamburg Court which deals with the UN Sea of the Law litigations.
Ms Castro who is also ambassador before IMO said "it was disappointing that some Argentine lawmakers and certain media have been releasing false information that could harm Argentina's position vis-à-vis the 'vulture funds' avidity contrary to national interests".