Argentina saved from a 'technical default'; court case continues February 27
Thursday, November 29th 2012 - 00:31 UTC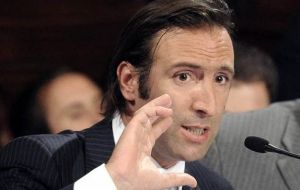 A US appeals court on Wednesday granted an emergency stay order that gives Argentina more time to argue against making a 1.33 billion dollars payment to investors who rejected two debt restructurings in the nation's 2002 sovereign debt default.

The federal appeals court postponed Judge Thomas Griesa's ruling "pending further order" and set February 27th as the day in which Argentina will be able to present its case against the judge's orders.

The measure lets the Argentine government face a bond payment of 3.3 billion dollars without any risk to holders of its restructured debt.

The appeals court has put off any decision until well into 2013 on whether or not Argentina will have to pay so-called holdout investors who did not participate in the 2005 and 2010 debt restructurings which paid less than 30 cents on the dollar.

Both Argentina and bondholders who took part in the exchange filed appeals to the 2nd Circuit. Oral arguments before the court will occur on Feb. 27.

Wednesday's decision by the 2nd Circuit effectively halts the order by US District Court Judge Thomas Griesa in Manhattan that could have led to a technical default on approximately 24 billion dollars worth of debt issued in the 2005 and 2010 exchanges.

Lead holdout investors Elliott Management Corp and Aurelius Capital Management both declined to comment on the 2nd Circuit's decision.

On Wednesday, the Argentine Government had stated that it would wait for the US court's decision to evaluate Griesa's ruling.

Earlier, Economy Minister Hernán Lorenzino, assured that the decision to reopen the defaulted-bond payment or not is tied to the federal appeals court decision on the case filed by the hedge funds against the country.

"We're waiting for the appeals court decision. We have nothing to add to the case until they reach a decision on the matter," he added in a press conference.

Lorenzino also said that the Argentine government was willing to reopen the bonds swap agreed on 2010, and invited the holdouts to participate. The decision was to try and avoid a default but was conditioned to the acceptance by the Argentine Congress to lift the so called 'lock-bill' which prevents any further negotiations with holdouts.

"A proposal for the bondholders who did not participate in the restructuring, under the 2010 swap conditions, would be in line with the country's record and could be debated in Congress" said Lorenzino.

Events indicate that by February 27 Argentina most probably will finally re-open the swap option on 2010 terms. Argentina on that year managed to restructure 93% of its defaulted sovereign bonds.