Brazil ends cuts and keeps key interest rate unchanged at 7.25%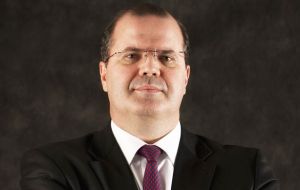 Brazil's central bank kept its key interest rate unchanged at 7.25% on Wednesday, ending a series of cuts since last year, as the world's sixth largest economy tries to contain inflation.
The bank said that as it weighed inflationary risks, prospects for economic recovery and the complexity of today's international financial situation, it concluded that "stability in monetary conditions for a sufficiently long period is the right strategy for achieving" its inflation goal of 4.5%.
The decision fell in line with analyst expectations -- some 100 monetary institutions consulted by the Central Bank weekly concurred that the bank's monetary policy committee Copom was likely to maintain the benchmark rate.
Last month, the central bank slashed its interest rate for the 10th time since August last year, to a record low of 7.25%, in a bid to stimulate the sluggish South American economy. When the cut strategy began, the interest rate stood at a historic high of 12.5% and inflation, at 7.2 %, exceeded the government's target.
Brazil economic growth slowed to 2.7% in 2011, down from 7.5% in 2010. In the first half of this year, the economy expanded only 0.6% compared with the same period in 2011, but officials are banking on better results in the second half. Market analysts expect 1.5% growth this year, and a more solid 3.9% next year.
Last year inflation in Brazil was 6.5%, the highest in seven years and in 2012 is estimated to reach 5.4%, above the official target of 4.5%.
The brief statement from Copom said that the decision was unanimous and "considering the balance of risks for inflation, the recovery of domestic activity and the complexity surrounding the global environment, the committee understands that the stability of monetary conditions for a sufficiently prolonged period of time is the most adequate strategy to guarantee the convergence of inflation to target, even if not in a linear fashion.
"Voting in favor of the reduction in the Selic rate to 7.25% p.a. are the following board members: President Alexandre Antonio Tombini, Aldo Luiz Mendes, Altamir Lopes, Anthero de Moraes Meirelles, Carlos Hamilton Vasconcelos Araujo, Luiz Awazu Pereira da Silva, Luiz Edson Feltrim and Sidnei Correa Marques".