OAS sends top envoy to Paraguay to prepare for April elections
Thursday, November 29th 2012 - 18:09 UTC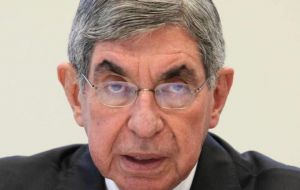 The Organization of American States, OAS, is sending a top electoral observation official to Paraguay to sponsor national political dialogue and make preparations for the OAS mission that will be following the electoral process leading to elections.
The chief of the OAS Electoral Observation and Political Accompaniment Mission he Organization of American States in Paraguay, former President Óscar Arias, is scheduled to visit the country from December 3 to 7.
The visit of former President Arias, designated for the task by the Secretary General of the OAS, José Miguel Insulza, aims to facilitate a process of national political dialogue and prepare the installation of the Electoral Observation Mission ahead of the elections of 21 April 2013.
The Mission led by the former Costa Rican leader seeks to contribute to the strengthening of Paraguayan democracy. In order to do so, it will collaborate with the authorities and political sectors of the country, with the goal of ensuring transparency in future national elections and making possible the participation of all political groups in those elections with full guarantees.
During his visit, the Nobel Peace Prize Winner of 1987 will meet with authorities of the three branches of the government and the Supreme Tribunal for Electoral Justice, as well as representatives of political sectors, civil society organizations and media.
Arias round comes a few days after a similar visit from the Unasur High Level Group on Paraguay, Salomon Lerner who collected information on the current political and electoral situation in the country for a report to be presented to the group's leader during their summit this week.
Salomon Lerner arrived as any other visitor since he did not receive a formal invitation from Paraguayan authorities, but had a scheduled agenda of political and other organizations contacts including with the Tribunal Electoral of Justice whose work and organization the former Peruvian Prime Minister praised.
The Electoral Tribunal invited Mr. Lerner to return to the country as their guest to follow the elections on April 21.
Lerner before leaving Paraguay met with the local media and was enthusiastic about the electoral process and the current political situation with President Federico Franco administration in full control of the country. Likewise he confessed to have received virtually no complaints regarding respect for human and civil rights.
Last June following an impeachment by the Senate, Fernando Lugo was removed from the Executive and replaced by Franco. However despite the overwhelming vote in the Senate, Unasur and Mercosur questioned the process and declared it 'non democratic' and decided to suspend Paraguay until April elections.
OAS on the other hand sent a fact finding mission to Asuncion and on the results of that visit decided no sanctions were applicable to Paraguay.