RAF honour guard at former Falklands' governor Sir Rex Hunt funeral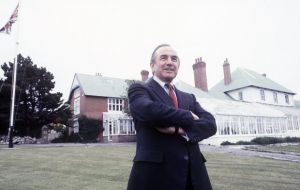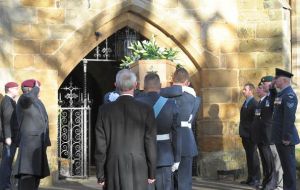 Personnel from 34 Squadron RAF Regiment and No 609 (West Riding) Squadron Royal Auxiliary Air Force (RAuxAF) have attended the funeral of Sir Rex Hunt, former Governor of the Falkland Islands.
Others attending included Air Commodore (Ret'd) Dempster Anderson representing RAF Regiment veterans and Group Captain Gary Bunkell, Inspector RAuxAF, representing the Honorary Inspector General.
Members of the RAF Regiment formed part of the coffin-bearing party and assisted both in the church and at the graveside. Falklands' veterans, ex-Royal Marines and members of the Parachute Regiment donned their green and maroon berets to form a guard of honour for the coffin as it entered the church.
The coffin left the church to the tune of the RAF March and Sir Rex was buried with the Falkland Islands flag on his coffin.
Squadron Leader Jeff Metcalfe, Officer Commanding No 609 (West Riding) Squadron, said: "No 2 Force Protection Wing were honoured to be asked to perform this solemn duty for Sir Rex Hunt and his family. The personnel were drawn from 34 Squadron RAF Regiment and 609 Squadron RAuxAF and were proud to support this sad occasion.
"I served on 2729 Squadron 20 years ago when Sir Rex was my Honorary Air Commodore. I had met him personally and I am proud that I have been involved in laying him to rest."
There are many within the RAF Regiment, still serving or associated with the Corps, who remember Sir Rex with some affection from the earliest days of the Falklands conflict in 1982 when 63 Squadron RAF Regiment deployed with 5 Brigade and manned the Rapier air defence systems around San Carlos Water.
Within days of the Argentine surrender, 63 Squadron RAF Regiment redeployed from there to defend the new air base established at RAF Stanley, which was to be their home - and for those of the other RAF Germany-based Rapier roulement squadrons involved - for another five years before the resident Rapier squadrons redeployed to the new Mount Pleasant Airbase.
While at Stanley, Sir Rex visited the remote Rapier site on many an occasion and he always took an intense interest in the men and what they were doing in defence of the Falklands. The RAF Regiment was to be deployed permanently in the Falklands until 2006, a total of 24 unbroken years.
Following the news of the death of Sir Rex Hunt, Foreign Secretary William Hague said: "I was very sorry to hear of the death of Sir Rex Hunt. As Governor of the Falkland Islands he served his country and the Falkland Islanders with great distinction". (DN).-