Rousseff vetoes part of oil royalties' bill: victory for producer states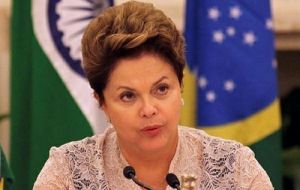 President Dilma Rousseff vetoed on Friday parts of a controversial oil royalties bill that pit Brazil's oil-producing states against the rest of the country in a battle over future oil wealth.
Seeking a compromise on perhaps the most divisive issues to arise during her nearly two-year-old presidency, Rousseff vetoed clauses that would slash income for Brazil's main oil states, including Rio de Janeiro.
Her veto changes the bill so that producer states continue to receive royalties on output from existing oil concessions. She signed most of the rest of the bill as passed earlier this month by Congress, redistributing royalties from all future oil concessions so that non-producing states get a greater share.
The legislation, approved with the overwhelming support of states with no oil production, is an effort to more evenly redistribute Brazil's growing oil wealth as massive new offshore oil discoveries near Rio de Janeiro and other south-eastern states begin producing in the coming years.
It also mandates that all royalties from future production contracts be used entirely to fund educational programs. The shift, which wrests funds away from local politicians and their pet projects in producer states, is important for a Rousseff administration focused on continued efforts to eradicate poverty across Latin America's biggest country.
The new law is also crucial for Brazil's oil industry because auctions for new oil concessions have been on hold until a new royalty framework was decided. The concessions are necessary for Brazil to develop new discoveries as quickly as possible, especially at a time when state-run oil company Petrobras, a mandatory partner in the big new fields, is struggling to meet existing production targets.
But a provision in the original bill to change royalties on existing concessions met stiff opposition in Rio, responsible for three-quarters of Brazil's current oil production, and the other producer states of Espirito Santo and Sao Paulo. O n Monday, thousands of demonstrators rallied in a Rio protest staged by the state government to urge Rousseff for a veto.
The revised law, then, marks a victory for producer states.
Renato Casagrande, the governor of Espirito Santo, late Friday said Rousseff with her veto "acted coherently and courageously," preserving "judicial security" in Brazil.
"Rio thanks President Dilma," Rio's Governor Sergio Cabral said in a statement.
Rio was especially concerned it would lose crucial revenue as it invests tens of billions of dollars to host the World Cup of soccer in 2014 and the Summer Olympics two years later. The state would have forgone 39 billion in revenue by 2020 under the original bill, Cabral said, warning that Rio "would have to close its doors."