Surprisingly disappointing performance of Brazilian economy in third quarter
Friday, November 30th 2012 - 23:51 UTC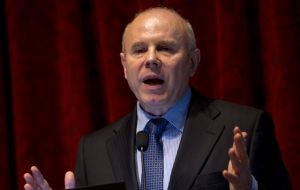 Brazil on Friday reported slower than expected economic growth in the third quarter putting more pressure on President Dilma Rousseff to make deeper structural reforms and adding to fears that the global slowdown is reaching big emerging markets.
The economy expanded just 0.6% from the second quarter, government statistics agency IBGE said, which was half the pace expected by financial markets.
Brazil has been stuck in a pattern of slow growth since Rousseff took office last year, as companies struggle with high costs and severe infrastructure and labour bottlenecks.
President Rousseff has tried to revive activity with numerous tax cuts and other stimulus, including record low interest rates, but Friday's data showed companies are not responding, as investment fell for a fifth straight quarter.
For Brazil Friday's data renewed concerns that its slow growth is not a cyclical issue, but the result of deeply rooted structural problems after strong growth in the previous decade.
Business leaders have repeatedly called for deep changes to Brazil's complex and onerous tax code, which they say makes investment prohibitively expensive.
The IBGE also revised down second-quarter growth to just 0.2% compared to the first quarter from a previously reported 0.4%.
Brazil's economy had been expected to grow about 1.5% this year.
Finance Minister Guido Mantega told reporters that growth was likely to speed up to 1% in the fourth quarter, and that Brazil would implement new stimulus measures in coming weeks to help ensure a healthy 4% expansion in 2013.
But despite the slow growth, many aspects of Brazil's economy still seem healthy compared to much of the developed world. Unemployment remains near a record low of 5.3%, government finances are in good shape, and Rousseff is popular as many voters believe the economy will eventually improve.
Household consumption was one of a few bright spots, rising 0.9% from the previous quarter. Agriculture expanded 2.5%. Industry also had its best performance since the second quarter of 2010, up 1.1%, which Mantega said would help spur more investment going forward.
One other seasonal factor that may have played a role in the disappointing third quarter: government consumption expanded just 0.1%, well behind the 1% pace in the second quarter, due in part to tighter restrictions on official spending in the run-up to municipal elections in October.