Moody's downgrades EU financial support funds after France loses top grade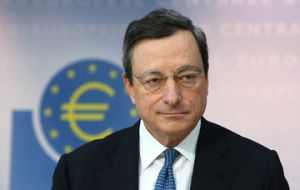 Moody's Ratings agency announced it has downgraded the European Stability Mechanism (ESM) and European Financial Stability Facility (EFSF) from "Aaa" to "Aa1," with negative outlook on each.
The agency stated on Friday that the downgrade was applied after France lost its top grade at Moody's and Standard and Poor's this year.
"Moody's downgrade of France reflects the rating agency's view that there has been a marginal diminution in the certainty that the sovereign will fulfil its financial obligations."
"France is the second largest contributor to the two entities' financial resources, as a provider of callable capital in the case of the ESM and as a guarantor country in the case of the EFSF," the Moody's communiqué continued.
In related news European Central Bank President Mario Draghi said that budgetary consolidation in the Euro zone would entail a short-term economic impact but the currency bloc was on track for a recovery in the second half of 2013.
"We have not yet emerged from the crisis," Draghi told Europe 1 radio. "The recovery for most of the Euro zone will certainly begin in the second half of 2013."
"It's true that budgetary consolidation entails a short-term contraction of economic activity, but this budgetary consolidation is inevitable," Draghi said, speaking through a translator.
And in Germany lawmakers approved the latest bailout for Greece by a large majority despite growing unease about the cost to taxpayers less than a year before federal elections.
The outcome of the vote in the lower house was never in doubt but it was a test of Angela Merkel's authority over her centre-right coalition. She did not manage to draw an absolute majority from her own ranks after 23 of her lawmakers rebelled.
But with the main opposition Social Democrats (SPD) and Greens voting in favour with most of Merkel's bloc, the revolt had only symbolic value. Of 584 deputies present in the chamber, 473 voted for the bailout and 100 voted against.
The package, which aims to cut the Greek debt load to 124% of GDP by 2020, coincides with increased speculation among German lawmakers and media that Euro zone governments will eventually have to write off much of the Greek debt they hold.
Finance Minister Wolfgang Schaeuble said in the Bundestag debate that such speculation could undermine the Greek government's reform drive.
"If we say the debts will be written off (Greece's) willingness to make savings is correspondingly weakened. Such false speculation does not solve the problems," he said. "A Greek bankruptcy could lead to the break-up of the euro zone."
The government acknowledged for the first time this week that the bailout will mean lost federal revenues.
All week, German newspapers have reverberated with predictions, including from some coalition lawmakers that Germany and other Euro zone countries will eventually have to write off some of their Greek debt holdings.