Cable and Wireless Monaco and Islands division sold to Bahrain Telecoms
Monday, December 3rd 2012 - 20:36 UTC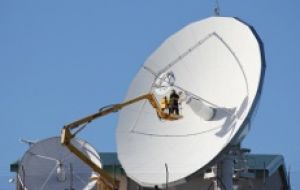 Cable and Wireless Communications have announced the sale of the majority of its Monaco and Islands division which includes the Falklands. The company has accepted 680m dollars (£420m) from Bahrain Telecommunications Company (Batelco) for the division which operates broadband and telephone lines.
Monaco and Islands operates services in the Channel Islands, Falkland Islands and the Maldives among other areas.
Tony Rice, CEO of Cable and Wireless Communications, said the move was part of a focus on growth in the Americas.
The sale includes all operations in the Maldives, Isle of Man, Channel Islands, Seychelles, Diego Garcia and South Atlantic islands, as well as part of its holdings in Monaco.
Sheikh Mohamed bin Isa Al Khalifa, chief executive of Batelco, said the company would invest in the islands' telecommunications.
He said: "[It] is a well-managed business that we want to invest in so that it continues to build upon its existing strengths."
The sale will need to pass final regulatory conditions, and is expected to be complete by the end of the financial year.
State-controlled Batelco, which has little debt, has reported falling profit in nine of the past 10 quarters and this slump has led it to expand abroad, although its moves had been limited to Middle Eastern countries like Jordan, Yemen, Saudi Arabia and Kuwait.
The deal also includes a 25% shareholding in Compagnie Monagesque de Communications (CMC), which holds CWC a 55% interest in Monaco Telecom. Monaco Telecom in turn holds a 36.8% stake in Roshan, a mobile phone operator in Afghanistan.
The total price for these transactions is 680 million, Batelco said on Monday, adding it had appointed BNP Paribas and Citigroup to help it raise up to $1 billion though a bond issue and a loan facility.
In a separate statement, CWC said the Batelco deal would cut its debt to 937 million. The operator is also in talks to sell a majority stake in Macau's largest telecom group.
"Our strategy to expand in Central America and the Caribbean is predicated on really moving out of all aspect of the eastern part of our business, so Monaco and the Islands and Macau," said CWC finance director Tim Pennington.