IMF reminds Argentina it must deliver a report on statistics advances by Dec 17
Monday, December 3rd 2012 - 06:01 UTC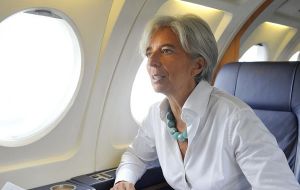 The IMF ratified last week that by December 17 Argentina must reply to Managing Director Christine Lagarde on the latest advances referred to the country's statistics both on inflation and GDP growth.
Gerry Rice, head of IMF Public Relations was in charge of making the announcement following on a question from an Argentine journalist who asked if the statistics controversy with Argentina was to be postponed.
"Could the December 17 board on Argentina's statistics be postponed to a later date as reported today?" asked Silvia Pisani from La Nacion.
On the question about Argentina's statistics and the board discussion, "as we said after the meeting in September, that the Managing Director is required to report to the Board by December 17 this year on Argentina's response to the Fund's concerns. We do not however yet have a specific date for the Board meeting at this stage", replied Gerry Rice.
Last September 17 the IMF Executive Board met to consider Ms Lagarde's report on Argentina's progress in implementing the remedial measures to address the quality of the official data reported to the Fund for the Consumer Price Index for Greater Buenos Aires (CPI-GBA) and Gross Domestic Product (GDP).
At the time the Executive Board said "it regretted the lack of sufficient progress in implementing the remedial measures since its February first, 2012 meeting and expressed to the authorities its concern that Argentina has not brought itself into compliance with its obligations under the IMF Articles of Agreement by implementing the said measures", and called on Argentina to implement the measures without delay.
In related news Ms Lagarde will be in Latin America visiting Colombia and Chile in the second week of December. The head of the IMF will be on Bogotá on December 10 to 11 where she will hold discussions with the authorities; there will be a press conference at the conclusion of the visit on Tuesday, December 11. Then in Chile, the Managing Director will first travel to Santiago to meet with the authorities on December 13.
On the same day, Ms Lagarde will take part in a student event at the Universidad de Chile also in Santiago and later in the days travels to Viña del Mar to participate in the Finance Minister's meeting of the Community of Latin American and Caribbean States, CELAC meeting, on December 14.