EU, US and Japan ask WTO to rule on Argentine imports' restrictions
Thursday, December 6th 2012 - 23:29 UTC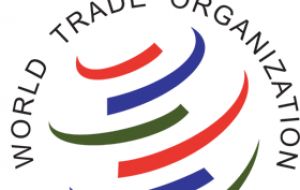 The European Union, the US and Japan have jointly asked the World Trade Organization to rule in a protracted trade dispute with Argentina. They criticize what they believe are unfair import restrictions and protectionism.
The European Union on Thursday appealed for the World Trade Organization (WTO) to rule in a dispute with Argentina over import restrictions. The move was supported by similar complaints from the US and Japan.
"Argentina's import restrictions violate international trade rules and harm EU exports," EU Trade Commissioner Karel De Gucht said in a statement. He noted that earlier WTO consultations with Argentina had not brought any positive solution.
De Gucht emphasized Thursday's move was "the last resort to see Argentina's unfair trade practices lifted and free and fair trade reestablished." The European Commission said Argentina's protectionist import licensing procedures potentially affected all EU exports to that country, with shipments reaching a volume of 8.3 billion Euros in 2011.
In a separate complaint, the US stated that Argentina's rules "included the broad use of non-transparent and discretionary import licensing requirements that had the effect of unfairly restricting US exports."
Argentina was accused of requiring US importers to agree to undertake burdensome trade balancing commitments in exchange for authorization to import goods and services.
Earlier this week, Argentina for its part filed WTO complaints charging the US with trade barriers against its beef and lemons exports, and the EU and Spain in particular with protectionist measures against its bio-diesel.
The EU, US and Japan petition asks for the establishment of a panel to solve the disputes. Mexico also made a similar presentation November 21. The panel will address the dispute 17 December.
Argentina at that moment can object to the panel, so that the issue will then be again addressed in another meeting in January. At this stage Argentina can't block the process and the panel stands firmly.
EU sources said that Argentina knew before hand that the EU, US and Japan would be making the petition to the WTO, and thus feel disappointed by Argentina's attitude.
"Argentina's attitude is totally unjustified and baseless since the Spanish regulation has never had an impact on Argentina's trade with Spain or the rest of the EU", said John Clancy, EU trade spokesperson.
Clancy recalled that Spain last October changed the ministerial order, (the motive for Argentina's complaint) which limited the imports of bio-diesel to countries from the EU. This order automatically dropped the order approved by Spain last April to limit imports from Argentina as a reprisal for the seizure of a majority of Repsol's YPF.