Mercosur (as Unasur) ratifies the suspension of Paraguay until at least April
Thursday, December 6th 2012 - 21:44 UTC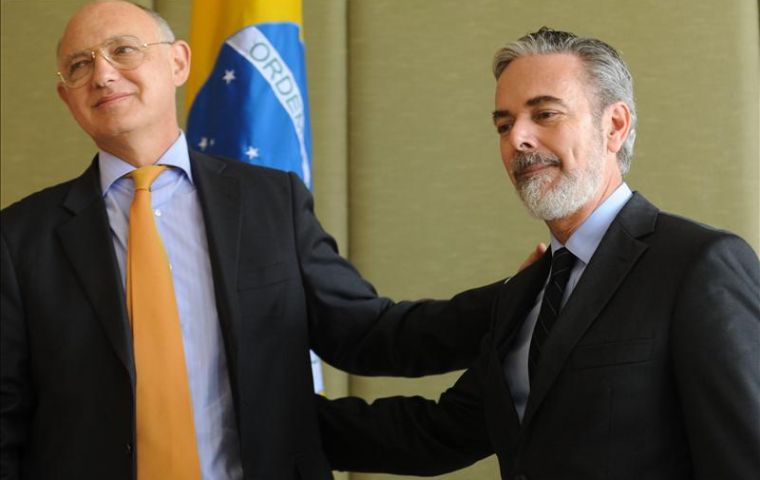 Mercosur Foreign ministers announced in Brasilia on Thursday that the suspension of Paraguay from the group stands at least until the coming presidential election on April 2013.
The decision was one of the first from the Mercosur Common Market Council which brings together the groups' foreign ministers: from Argentina, Hector Timerman, Brazil, Antonio Patriota, Uruguay, Luis Almagro and Veronica Guerrero in representation of Venezuela which is attending for the first time as a Mercosur full member.
"It was decided to continue examining the situation without altering the suspension agreed last June following the removal of then president Fernando Lugo", said Patriota, adding that besides the suspension Mercosur members ratified their interest in sending observers for the coming elections in April.
"We are going to continue 'hand to hand' with Unasur (Union of South American Nations) that has also suspended Paraguay and has also the intention of sending observers to the election" despite the fact that President Federico Franco said he would not accept Unasur representatives.
Nevertheless Patriota said he trusts that both Unasur and Mercosur "will find a way with the Paraguayan electoral authorities" so that observers can be present at the election.
The Unasur and Mercosur decisions to continue with the suspension of Paraguay from the two groups had already been anticipated by Brazilian diplomacy ahead of the two summits. Not only that, Brazilian diplomacy said April was 'a first step' with the 'closing of the circle' if all is satisfactory, in August when the democratically elected president takes office.
Unasur and Mercosur consider the removal of Lugo and his replacement by Federico Franco as a "rupture of the democratic process" despite all was done according to the Paraguayan constitution via an impeachment by the Senate with almost unanimous support.
Further more on the day Paraguay was suspended the three other Mercosur full members Argentina, Brazil and Uruguay decided the inclusion of Venezuela as full members, a move which had been blocked for years by the Paraguayan Senate that considers President Hugo Chavez a "non democratic leader" who shuts down non manageable media and locks up dissidents.
Uruguayan president Jose Mujica justified the decision at the time arguing that sometimes 'politics' are more important than legality. The comment arises from the fact that Mercosur decisions on new incorporations must be unanimous with all members present.
Patriota added that the council also considered Venezuela's adaptation process to Mercosur norms and regulations, which is being accomplished at "a very quick pace".
On Friday will take place the Mercosur summit when Brazilian president Dilma Rousseff hands over to Uruguay's Mujica the rotating chair for the next six months. Argentina's Cristina Fernandez and Uruguay's Mujica are expected to arrive in Brasilia Thursday night, as well as Bolivia's Evo Morals and Ecuador's Rafael Correa, the two countries that have been invited to become full members of Mercosur.
Venezuelan president Chavez will be represented by Vice-president and Foreign minister Nicolas Maduro.