Brazil confirms Venezuela's Chavez will be absent from the Mercosur summit
Friday, December 7th 2012 - 05:46 UTC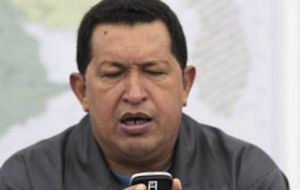 Venezuelan president Hugo Chavez will not be attending the Mercosur summit on Friday as had been previously announced, announced on Thursday the Brazilian Foreign ministry which is hosting the event.
"President Chavez is not coming to the summit and Venezuela will be represented by Foreign minister Nicolas Maduro" said the ministry. This means Chavez will be the great absentee of this the first summit in which Venezuela will be participating as full member of Mercosur after having made the request six years ago.
Chavez' absence and the lack of information from the hiper-active president since he left on November 27 for cancer related treatment in Cuba has caused concern among other Mercosur leaders and in Venezuela, but the news has been absorbed with prudence and little exteriorization from any of the two sides of the public opinion divided country.
After winning the re-re-election last 7 October, Chavez was seen publicly for the last time on 15 November. The lack of speeches, videos, pictures as well as the absence of Twitter messages have triggered surprise since he is scheduled to take office next January 10 and most of his closest political allies are on the campaign trail for the provincial elections of December 16.
On November first he had announced that "God willing we will be in Brasilia for the great Mercosur summit at the beginning of December".
Venezuela became full member last July following the suspension of Paraguay the only full member opposing Chavez and his "non democratic regime". At the Mercosur summit the advances of Venezuela for the full incorporation to the group's norms and regulations continues at "a good pace".
Likewise and equally significant Bolivia and Ecuador have been invited to become full members of Mercosur and they are already in Brasilia for the Friday summit discussions.
The fact that Chavez is not going to Brazil for the majority of the people is OK; for the opposition it means he's really ill and for his Chavista followers, "he's the boss he makes the decisions", said Luis Vicente Leon, head of the Venezuelan pollster Datanalisis.
However in the midst of the provincial elections "I feel the opposition fears he will be back in Venezuela on the closing of the campaign and triumphantly turn around those places where his candidates face tight races".
But Leon also pointed out that "after three times you've announced you are dying, the fourth time it's no big deal".
Political analyst and former minister Teodoro Petkoff says that the absence of the president confirms that "his health has really deteriorated" and that this time "he's really taking things seriously and his treatment, and apparently the team of doctors looking after him have managed to discipline him".
Nevertheless it is highly surprising that Chavez is ignoring things he loves and enjoys: campaigning, making speeches, lifting his candidates arms, touring the country with his red beret militias, attending summits…" recalled Petkoff.