Norovirus attacks cruise ship on the Rhine: 183 pax quarantined
Monday, December 10th 2012 - 05:44 UTC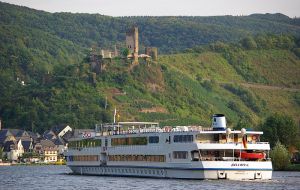 Many passengers aboard a River Rhine cruise ship have fallen ill. The cruise liner, the MS Bellriva, had been on the river when around 70 people complained of symptoms linked to the highly contagious Norovirus.
Noroviruses are a most common cause of viral gastroenteritis and often occur in winter when people spend more time together in closed environments.
Outbreaks of norovirus infection often occur in closed or communities, such as long-term care facilities, overnight camps, hospitals, prisons, dormitories, and cruise ships.
The infection spreads very rapidly either by person-to-person transmission or through contaminated food. Some of the more elderly affected passengers were taken off the ship to nearby hospitals in Wiesbaden while 183 people have been quarantined onboard.