Falklands' dispute triggers concern among Argentine tourism operators after two cruises omit Ushuaia
Wednesday, December 12th 2012 - 08:05 UTC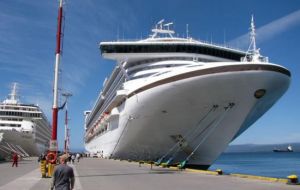 Ushuaia tourism operators expressed concern and called for common sense to prevail after two major cruises finally decided this week not to call at in Argentine Tierra del Fuego after local authorities could not guarantee that the visiting vessels would not be exposed to the same intimidation tactics and delays experienced recently in Buenos Aires and earlier this year in the extreme south terminal because they include the Falkland Islands in their itineraries.
After a letter sent with the guarantees request went unanswered, Seabourn Sojourn and Veendam with 450 and 1.300 visitors simply omitted calling and/or landing in Ushuaia and reports from the local media indicate that Holland America Line has decided to cancel future calls and the mother corporation Carnival Corporation is considering new itineraries for its cruise vessels in the rest of the season.
The two vessels apparently after omitting Ushuaia, called at Punta Arenas, Chile in the Magellan Strait, another important cruise terminal in the extreme south of the continent.
Earlier this month the Seabourn Sojourn was boarded in Buenos Aires by a gang of radical thugs, with the support of the maritime workers union and the passivity of law enforcement agents and delayed until forced to sign a commitment not to call again at the Falklands, based on a bill approved by several Patagonia provinces, the so called Gaucho Rivero law, which bans from Argentine ports vessels involved in oil related activities in the Falklands, but which is interpreted and made extensive to all commercial activities.
After several hours and having signed the cruise left for Uruguay, visiting Montevideo and Punta del Este, and this week was again expected in Ushuaia after calling at the Falklands.
The Ushuaia newspaper Diario del Fin del Mundo also published that because of the incidents allegedly Seabourne Sojourn is going to omit Ushuaia and other Argentine ports and sail between Uruguay and Chile via the Falkland Islands.
Chile has again become a main attraction for the cruise industry after Congress passed a bill ending a ban on casino and gambling on board vessels while sailing in Chilean waters. Punta Arenas the hub of cruise activity in southern Chile will be visited this season by 52 vessels with an estimated 62.000 visitors, according to local authorities.
But the harassment and intimidation by Argentine radical thugs with official 'complicity', of cruise vessels calling in the Falklands and Argentina has not gone down with out protests not only from the Foreign Office.
The president of the Ushuaia Chamber of Tourism, Marcelo Lietti, as he did earlier this year, warned that the implementation of the Gaucho Rivero Law is having an economic impact on the local tourism industry and related activities.
Speaking to a local Ushuaia radio Lietti said that the cruise companies have sold packages including the Malvinas so it is hard to see how they can avoid that leg since they can be exposed to legal demands and regarding the Gaucho Rivero Law he admitted that it is a provincial bill and foreign companies work on the basis of 'national (federal) legislation'.
But what is important "we estimate a loss of 18.000 visitors this season if this continues. This means loss of jobs and activity for many small shops that live from the tourism industry" said Lietti who anticipated he would address local authorities because "these are not the methods to claim a national cause we all support".
Likewise cruise operator Fabio de Souza, head of Tolkeyen Patagonia called for common sense to prevail and said "we have nothing to argue regarding the sovereignty claim, but we fear a contagion effect from other cruise lines and a boomerang effect for our local economy if this continues".
"It is a complicated situation because even when the provincial government authorizes cruise vessels to call and extends the permits, a group of activists flying the Gaucho Rivero flag will not allow vessels going or coming from Malvinas to berth in Ushuaia", said de Souza.
This week "we had this situation with two vessels while others are already talking about omitting Ushuaia for the rest of the season because of lack of guarantees by local authorities, according to the information we have".
"We have nothing to argue regarding the sovereign claim over Malvinas, but we are beginning to have a boomerang effect and we don't know where the conflict is going to end and how it is going to end", added de Souza.
He pointed out that the cruise industry is dominated by two or three main corporations, highly competitive but when the interests of the industry are involved 'they can act very much as a corporation looking for what is better for all of them".
De Souza went on to say that leaving aside the additional complication "the current cruise season was not entirely good since although we could be receiving more calls (up 16%) the fact is that the vessels have less visitors, maybe working with 70% of last year's average".
The head of Tolkeyen Patagonia pointed out that the loss of activity in Ushuaia will be captured by Punta Arenas in Chile.
"Let's not be foolish: our Chilean neighbours will take full advantage of the situation and will receive the cruise vessels with open arms. They will try again to make Punta Arenas the Antarctic logistics and cruise hub of the extreme south, a position currently held by Ushuaia", insisted de Souza.
"Let's hope common sense prevails and some kind of understanding can be reached because there are many jobs at stake and a whole industry based on the cruise visits and related activities", concluded de Souza.