'Argentina's behaviour' main obstacle for EU/Mercosur trade talks says Brussels
Friday, December 14th 2012 - 04:45 UTC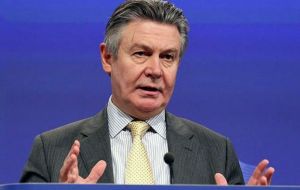 The European Union Trade Commissioner openly accused "Argentina's behaviour" as the main obstacle in discussions to advance and reach a free trade agreement with Mercosur.
"I can't understand why they insisted so much in reopening negotiations in 2010 and now some of its members display a behaviour that does not help the negotiations", said Trade Commissioner Karel De Gucht on Thursday speaking to the press in Geneva
"We were forced to go to the World Trade Organization against Argentina in several complaints together with the US, Japan and Mexico, which obviously does not help with the adequate climate for a negotiation that leads us to a free trade agreement", added the Commissioner.
In the last six months, Argentina has been demanded in seven complaints at the WTO as a result of a trade war which was triggered by the imports' restriction policy imposed by the administration of Cristina Fernandez and which several countries consider as 'protectionist' and contrary to the spirit of free trade.
The debate and complaints from many WTO members became a fact when on 25 May the EU decided to formalize a consultation process with Argentina on the issue. This was followed by President Cristina Fernandez administration decision to nationalize a majority stake in Spain's oil corporation Repsol, so far with no compensation.
Buenos Aires again reacted on 20 August filing complaints against the EU and Spain because of alleged damaging restrictions to imports of Argentine bio-diesel. A day later the US and Japan did something similar but complaining about Argentina's restrictive imports' policy and 'balanced trade' demanded from corporations operating in the country.
Nevertheless De Gucht said he was hopeful about the next EU/Mercosur meeting, scheduled for January in Santiago de Chile on the sides of the leaders' summit of the Community of Latam and Caribbean states, CELAC
"We hope that in the next meeting we can make some positive advances", although he also pointed out that "the ball is now in the South American court".
"We are expecting Mercosur to tell us they are willing to negotiate. Although the truth is we need them to tell us what their position in the goods and services chapters is. We've advanced enormously in rules and regulations, but we are still waiting for their proposal regarding goods and services" revealed de Gucht.
This statement sound completely opposite to what Argentite president CFK said at the latest Mercosur summit, where she stated that South American countries are waiting first to know the true intentions of EU, before sitting down to talk.
Next January 24, President Rousseff will be hosting in Brasilia EC president Jose Manuel Durao Barroso, the head of the European Council, Herman Van Rompuy and de Gucht. The meeting will take place following the CELAC summit.
The EU 27 members and Mercosur re-launched, in May 2010, negotiations for a free trade agreement after six years of stalled discussions. The EU complained about tariffs on industrial goods and likewise Mercosur complained about EU agriculture tariffs, subsidies and protectionism.
Mercosur is made up of Argentina, Brazil, Uruguay, Venezuela and Paraguay currently suspended, while Bolivia at the moment an associate member has started talks to become a full member.