EU reaches landmark deal to make the ECB the top banking supervisor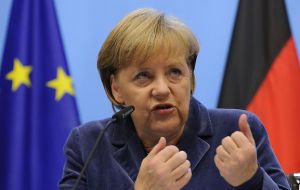 The European Union reached a landmark deal on Thursday to make the European Central Bank the bloc's top banking supervisor, giving EU leaders greater confidence that they are gaining the upper hand over the Euro zone's debt crisis.
EU finance ministers forged a deal on the single supervisor in the early hours of this morning after marathon talks. Leaders will give their stamp of approval at a summit later in the day, their last of 2012, and also discuss closer fiscal ties for their troubled currency area.
After a hectic year of crisis management, during which Greece had a close brush with the Euro zone exit, getting an agreement on the first stage of a banking union is a victory for the EU and represents a bold step towards pooling sovereignty.
"The importance of the deal cannot be assessed too highly," German Chancellor Angela Merkel, Europe's most powerful leader, told parliament in Berlin before heading to Brussels. "We succeeded in securing Germany's key demands."
But there will be no time to relax. The next stages of banking union - creating a resolution fund for winding up troubled banks and coordinating deposit guarantees to protect savers - will be fought over even harder. And then there will be political and financial hurdles to negotiate through the year.
With Silvio Berlusconi vowing to contest an Italian election early next year, a full bailout of Spain still on the cards and a German general election in September casting a long shadow, 2013 promises to be the EU fourth turbulent year in a row, and that's without mentioning Greece, Ireland or Portugal.
The immediate priority is to finalise the legal framework for banking union and get the backing of the European Parliament. Then the ECB must hire staff and decide how to carry out its mandate. It may not start supervision until April at earliest, and will only be fully operational in March 2014.
Officials said the ECB would regulate some 150 to 200 banks directly, mostly major cross-border systemic lenders and state aided institutions, with the power to delve into all 6,000 banks in case of problems.
"It's very good news that shows that step-by-step the euro zone and the European Union are coming out of the crisis," French Finance Minister Pierre Moscovici told reporters.
Completing such a complex process would be one of the EU's biggest achievements since the region's debt crisis erupted in early 2010, and might go some way to severing the so-called doom loop between indebted banks and shaky governments.