World's largest pulp and forestry complex begins operation in south Brazil
Friday, December 14th 2012 - 04:55 UTC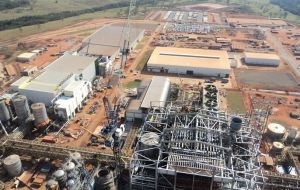 Brazilian group JBS-Friboi, a leading global exporter of meat products, has inaugurated an industrial complex for pulp production with an investment of 6.2 billion Reais (approx 3 billion dollars).
The El Dorado Brasil complex located ten miles from Porto Alegre, the capital of Rio Grande do Sul, the southern most state, will have an initial production capacity of 1.5 million tons of pulp annually.
The company expects an annual turnover of 2 billion Reais (some 1 billion dollars) in its first year of operations and to double production by 2017 before carrying out a new expansion in 2021.
Eldorado Celulose e Papel when totally finished will be the world's largest single-line pulp mill. This output – the raw material for which will be wood from planted eucalyptus forests, which is a 100% renewable source - is to be exported to paper producing markets in South America, North America, Europe and Asia.
The pulp mill has the best available technology and project management focused on the sustainability of industrial and forestry processes, according to a release from the company.
In November 2011, the incorporation of Florestal Brasil S.A. by Eldorado Celulose e Papel S.A. was approved by way of a material fact. The decision on the incorporation was taken in view of the fact that the unification of the operations would optimize the companies' activities and result in efficiency gains.
Considering that Florestal Brasil's core business was the production of eucalyptus forests, and that Eldorado Celulose e Papel produces and sells pulp, the incorporation raises the prospect of better results.
Florestal Brasil S.A was founded in July 2007 and began its forestry operations with planting eucalyptus and producing seedlings in its own nurseries, with a capacity to produce 3 million cloned seedlings a month. Florestal Brasil S.A. core business was agro-forestry, importing and exporting agro-forestry products, and providing rural services to third parties.
In related news the Chilean pulp manufacturer CMPC announced last week it will expand its pulp mill in Rio Grande do Sul by 2015, while paper and pulp manufacturer Stora Enso Brasil and Chilean partner Copec plan to begin operations next year in Montes del Plata, Uruguay.
Brazil's Suzano, meanwhile, plans to inaugurate its plant in the northern state of Maranhao later this month.