Korean trawler catches fire in Montevideo; crew saved and no ammoniac on board
Monday, December 17th 2012 - 05:57 UTC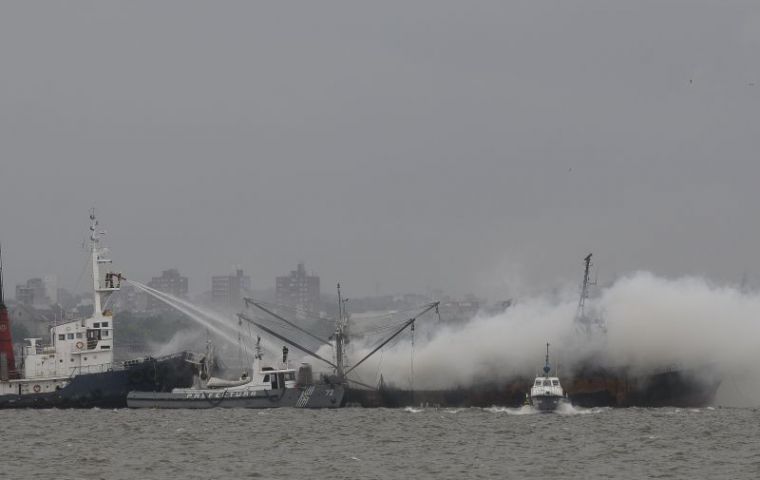 A Korean flagged trawler that caught fire in early morning Sunday has been tugged to the middle of the bay of Montevideo where a combined effort of Uruguayan Coast Guard, port authorities and fire fighters have controlled the flames after rescuing forty crewmembers, mostly Chinese, Vietnamese, Indonesian and Korean officers.
The 490 tons trawler "Agnes 7" was docked in a local yard when for causes yet to be determined it caught fire at 2:00 AM Sunday triggering an immediate operation to save lives and contain the flames from spreading to other combustible areas at the yard.
"The forty crew members on board were rescued by members of the team, and some had to be picked from the water where they had jumped. They were all transferred to 'Agnes 5', another Korean flagged trawler", said the Uruguayan navy spokesperson Sergio Bique.
He added that the combined task force will continue working early Monday, and the investigation begins Monday with all the evidence collected plus the testimonies from the crew of 'Agnes 7'.
Bique said that fortunately there is no danger of any explosion on board since the ammoniac tank was empty. Most Korean vessels still use ammoniac for the cold storage facilities, despite it is a highly dangerous (explosive) element which most other fishing vessels have ceased to use.
"Agnes 7" was docked since October in Montevideo and was scheduled to leave in approximately ten days to continue fishing in the south Atlantic. 'Agnes 5' is a much larger trawler and is also in Montevideo preparing for another fishing season.