Argentina says Belgian highest court rules against seizure of diplomatic accounts
Tuesday, December 18th 2012 - 04:01 UTC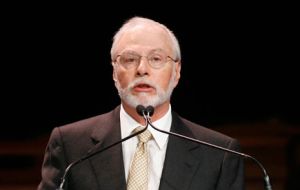 The Belgian Supreme Court threw out an attempt by hedge funds to seize Argentina's diplomatic accounts in that country, according to a release on Monday from the Argentine Foreign ministry.
This follows on last Saturday's Law of the Sea tribunal ruling ordering the immediate release of the impounded Argentine navy frigate ARA Libertad retained in Tema, Ghana.
The court also ordered the plaintiff to pay for the costs of the trial.
The Foreign ministry said that the Belgian high court accepted Argentina's arguments based on the 1961 Vienna Convention on diplomatic relations which states that "the premises of the mission, their furnishings and other property thereon and the means of transport of the mission shall be immune from search, requisition, attachment or execution".
The ruling also said that no injunctions or coercion actions can be implemented against the assets which ensure the functioning of a diplomatic mission.
"This thus means that the immunity of execution regime is extensive to the funds deposited in local banks and specifically destined to sovereign activities of a State".
"This way the highest court in Belgium and the UN International Tribunal for the Law of the Sea in Hamburg have delivered significant blows to the strategy of financer Paul Singer, owner of the 'vulture fund' NML, seated in the Cayman Islands which bought defaulted debt and later refused to accept the restructures of 2005 and 2010, while at the same he launched injunctions worldwide before international tribunals, which one by one have been lifted by Argentina", says the release.
The cases brought by NML stem from Argentina's massive sovereign default in 2001. About 93% of the defaulted bonds were tendered in 2005 and 2010, but a few holdouts turned their noses up at the deal that offered just 33 cents on the dollar and have dogged Argentina in courts across the globe to collect the full value of the bonds.
In Buenos Aires Defence Minister Arturo Puricelli, confirmed on Monday that tne navy training ship ARA Libertad will sail from Ghana, where it's been seized since October, this Wednesday to arrive to the Buenos Aires port on January 9.
Puricelli explained that a large crew will be sent to the African country as "there are only 45 sailors on the ship, and though they can sail the Libertad it would demand an enormous effort for such a small crew to make her cross the Atlantic Ocean."
Likewise, Puricelli remarked that Ghana "cannot disobey the UN's Tribunal of the Sea order for the immediate release of the ship seized at request of a US-based hedge fund."
Furthermore, the official remembered that "'vulture funds' were seeking by all means to blackmail us as they are professional speculators. They are riffraff."