Argentine government appeals to Supreme Court on the Media Law case
Wednesday, December 19th 2012 - 23:17 UTC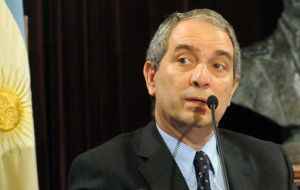 Argentine Justice Minister Julio Alak announced the government presented the "per saltum" recourse before the Supreme Court as it seeks to put an end to the case over the constitutionality of the Media Law's divestment article.
The court now must decide whether to admit the appeal and, where appropriate, the merits.
"By presenting a 'per saltum' recourse we intend to hasten proceedings toward a definitive ruling so that a law that has been passed by Congress can be applicable to all media groups", the Minister said.
Likewise, Alak remarked the legal mechanism "seeks a new declaration of constitutionality as the State wants to have a definitive ruling on all matters."
This time, the appeal filed by the Government comes after Clarín Group's appeal against the ruling by Judge Horacio Alfonso, who declared the "constitutionality" of Articles 45 and 161 of the Broadcasting Law on December 14, was accepted on Tuesday by the same judge, who also reinstated the injunction that shields the conglomerate from conforming to the clause of large-scale divestment.
Alfonso proceeded to send the case to the Civil Appeals Court, which is now responsible for ruling either to dismiss the appeal or in favour of Clarín Group's claim that the law is "unconstitutional", unless the "per saltum" is accepted -in which case the responsibility will fall into the Supreme Court.
Alak justified the strategy of the per saltum recourse since the situation of the 2009 Media Law is of "institutional severity" and because the national State feels "aggravated" by the situation.
This is the second time the Argentine government appeals to the exceptional 'per saltum' recourse, two weeks after the Appeals court extended the Clarin Media injunction. In a unanimous ruling the high court rejected the recourse on procedural reasons, but also indicated the way for such an exceptional mechanism.
"The precautionary measures can't extend longer than a reasonable period of time", said Minister Alak who added that the Supreme Court last 22 May ruled that December 7 was the latest possible date for the decisions favouring Clarin.
"We need quick judicial resolutions that do not question laws sanctioned by the Congress, and that we can have a definitive sentence from the court", said Alak referring to the per saltum recourse.