Brazilians say Venezuelan leader condition stable and with positive developments
Wednesday, December 19th 2012 - 01:46 UTC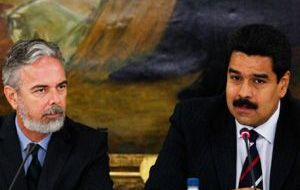 Brazil's Foreign minister says Venezuelan President Hugo Chavez seems to be improving after cancer surgery.
Brazil's state-run news agency Agencia Brasil cites Foreign Minister Antonio Patriota as saying that Brazilian officials are monitoring daily the health of Chavez.
Patriota says that the latest news on Chavez indicates "stabilization and even positive developments".
Chavez underwent his fourth cancer-related surgery in Cuba last week. He's remained secretive about the exact nature of the cancer that he's been battling for more than 18 months.
The Brazilian official offered no more details regarding Chavez's health. He said he's staying informed through conversations with Venezuela's Vice President Nicolas Maduro and Brazilian diplomats in Venezuela.
A team of Brazilian oncologists and surgeons participated in the latest surgery of President Chavez.