Chevron/YPF sign pilot accord to drill 100 wells in Vaca Muerta shale deposits
Wednesday, December 19th 2012 - 20:45 UTC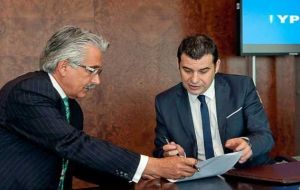 US Chevron and Argentina's nationalized YPF signed a partnership to on Wednesday to invest 1 billion dollars to develop the shale-oil reserves of Vaca Muerta in the hydrocarbons rich Patagonian province of Neuquén.
The companies will work on the Loma La Lata Norte and Campana areas within the Vaca Muerta formation, Miguel Galuccio, YPF CEO said in a video-conference from Houston with Ali Moshiri, Chevron's head of Latin America, Middle East and Africa.
The details of a permanent deal will be negotiated over the next four months. The companies said Wednesday's letter of intent envisions an initial joint venture to drill 100 non-conventional oil wells at a cost of 1 billion dollars.
The agreement is the first YPF has reached with a foreign oil company to invest in Argentina since the government nationalized 51% of the company by seizing shares from Repsol SA in April. Repsol claims to have discovered the rich shale deposits.
Vaca Muerta holds at least 23 billion barrels of oil equivalent, according to a report by independent auditor Ryder Scott released in February by YPF. Argentina holds the world's third-largest shale gas reserves, behind the US and China, according to US Energy Administration data.
But Galuccio and Ali Moshiri said the agreement signed on Wednesday only covered a pilot phase.
"The question is going to be how big the investment is going to be beyond the pilot," Moshiri told reporters. "Our goal is to start as soon as possible. What we need is to push our teams to put a definitive agreement together as soon as possible."
CEO Galuccio called the preliminary accord "a very important day for YPF."
YPF, which was nationalized in May, has said that to boost output it needs to invest more than 30 billion dollars in the next five years, 4.5 billion of which is to come from strategic partners.