Saudi Arabia joins Japan and China, suspends imports of Brazilian beef
Wednesday, December 19th 2012 - 01:38 UTC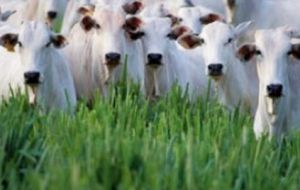 Saudi Arabia has suspended imports of Brazilian beef, Brazil's agriculture ministry said Tuesday, and became the largest country to stop purchases after confirmation of a 2010 case of atypical mad cow disease.
The decision, confirmed by a ministry press official in Brasilia, follows Egypt's ban of beef Monday from Parana state, where a cow that died two years ago had developed atypical bovine spongiform encephalopathy (BSE), or mad cow disease. Egypt will continue to import from other states.
Between January and October, Saudi Arabia imported 31.300 tons of beef, putting it among the top 10 largest importers from Brazil, the world's largest beef exporter.
"This classification has been followed by important countries, blocks and consumers," Minerva said in a statement Tuesday, adding that sales to Saudi Arabia accounted for approximately 2.5% of gross sales so far this year.
But top buyers Russia, Hong Kong and Egypt, which took more than half of the 896,000 metric tons of beef that Brazil has exported this year through September, continue to import its beef, suggesting the impact could be limited.
Prior to Saudi Arabia, only Japan, China and South Africa had halted imports of all Brazilian beef since Brazil announced on Dec. 7 that a 13-year-old cow that died in 2010 in Parana tested positive for the protein linked to the development of BSE.
The countries are all minor importers of Brazilian beef.
The cow, which was kept for breeding purposes, never developed BSE and died of other causes. But it tested positive for the causal agent for BSE, a protein called a prion, which can arise spontaneously in elderly cattle.
A similar case of atypical BSE occurred in the United States in April. Like the Brazilian cow, that animal never entered the food chain and there was no major effect on US beef exports.
Brazilian companies like JBS SA, the world's biggest meats producer, as well as rival Minerva SA and food processor Marfrig Alimentos SA have played down the impact of the case on their operations.