ICE buys NYSE Euronext propelling the commodities player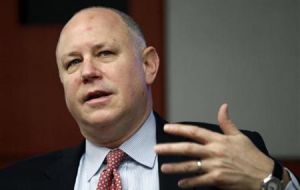 Intercontinental-Exchange agreed an 8 billion dollars deal to buy New York Stock Exchange owner NYSE Euronext, propelling the commodities player into the big league of European derivatives and helping it to take on arch rival CME Group.
ICE will look at selling Euronext, NYSE's European stock market business, in an initial public offering after the deal closes in the second half of next year.
"Our transaction is responsive to the evolution of market infrastructure today and offers a range of growth opportunities," ICE Chairman and CEO Jeff Sprecher said in a statement.
ICE will buy NYSE, which also owns derivatives market Liffe, for 33.12 dollars per share in stock and cash, a 37% premium to its Wednesday closing price and valuing NYSE Euronext at 8.2 billion.
NYSE Euronext shares rose nearly 32% after the deal was announced, while ICE's shares fell four percent.
Analysts said the deal will give Atlanta-based ICE a strategic boost with control of Liffe, Europe's second-largest derivatives market and helping it compete against US-based CME Group Inc, owner of the Chicago Board of Trade.
"ICE is after Liffe, that is the crown jewel of NYSE Euronext," said Peter Lenardos, analyst at RBC Capital Markets. "Strategically it makes sense for ICE to enter the European derivatives space in a meaningful way."
ICE, founded in 2000, has its roots in electronic commodity trading and a tie-up with Liffe will boost trade for soft commodities such as sugar, buoying its profits.
"I would imagine that, having the softs contracts under one roof would provide for easier arbitrage, financing and development of trading opportunities behind the contracts, via swaps and options," said Jonathan Kingsman, a sugar trade veteran who heads agriculture at information provider Platts.
"If you have clearing membership of ICE, you could trade London contracts under the same membership."