Brazil's central bank forecasts modest inflation next year and stable interest rate
Friday, December 21st 2012 - 00:18 UTC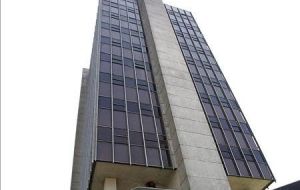 Brazil's central bank in its latest quarterly inflation report published Thursday, pointed to a modest decline in consumer inflation next year but largely underscoring expectations that its interest rate will remain stable.
The central bank slightly reduced its forecast for consumer-price inflation in 2013, to 4.8% from 4.9%, reflecting similar comments made by the central bank's president, Alexandre Tombini, earlier this week.
The institution did raise its forecast for consumer-price inflation for this year, to 5.7% from 5.2%. In part, that reflects the surprise jump in inflation in November, on a jump in service sector prices.
The central bank reiterated the view that stability in monetary conditions for a "sufficiently prolonged" period will be conducive to bringing down inflation to the target of 4.5%. That has been interpreted widely as indicating that the interest rate, the Selic, will remain at 7.25% for some time.
The central bank's vision of inflation for next year isn't matched by all economists, as some believe the central bank is playing with fire by allowing inflation to remain consistently above target and have called for interest-rate increases.
The latest weekly survey of market participants carried out by the central bank puts the median forecast for next year at 5.4%, down from expectations this year of 5.6%.
The government has unveiled some measures that would help rein in inflation next year, such as tax cuts and a plan to reduce electric power bills. Critics argue that those measures likely will be offset by strong domestic demand, on the back of rising salaries and credit, as well as other steps, such as an increase in gasoline prices.
Meanwhile, the central bank cut its forecast for GDP this year to 1% from 1.6%. For the four quarters through the end of September 2013, the central bank expects 3.3% growth.
The central bank said that growth in the second half of this year has been slower than expected but that income and credit will continue to drive domestic demand in coming semesters. The bank said a slow recovery of confidence delayed investments, which weighed on growth.
The government has been criticized by many in the business community for its aggressive action in parts of the economy, as it seeks to bring down prices and costs. While some laud the government's efforts, others argue it has created uncertainty that has delayed fresh investments.