Chavez January 10 inauguration could be delayed, suggests top Bolivarian official
Friday, December 21st 2012 - 04:21 UTC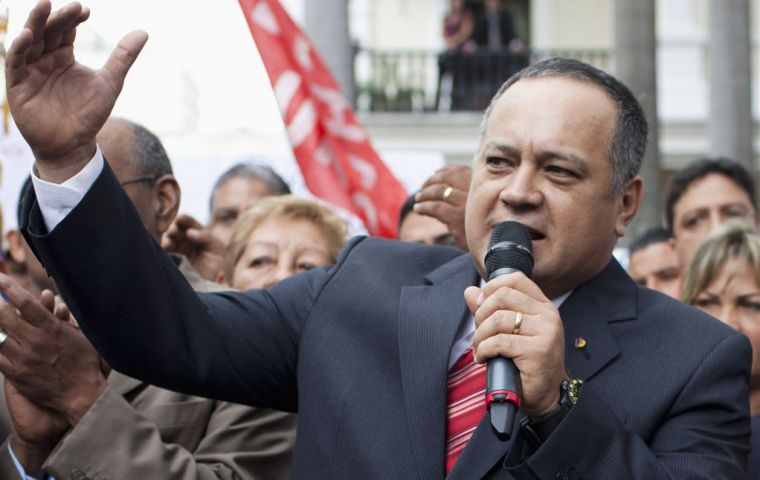 For the first time a government official in Venezuela has raised the possibility that Hugo Chavez's January 10 inauguration could be delayed as the president struggles to recover from his latest cancer surgery in Cuba.
Comments by National Assembly president Diosdado Cabello suggest government officials may postpone the inauguration to accommodate Chavez's recovery.
Any delay would outrage the opposition, which has insisted for months that Chavez officially hand over power while he convalesces in Cuba. The constitution says he should be sworn-in again on January 10, but there are conflicting interpretations over what would happen if he is not.
"You can't tie the will of the people to one date. If you didn't do it that day, if it isn't the tenth, doesn't the will of eight million people count?" Cabello was quoted as saying by local media on Wednesday.
Cabello spoke after a Socialist Party news conference, insisting he was offering his personal opinion and not the "official position" of his party or the national assembly.
He said the assembly could ask the Supreme Court, widely believed to be under the thumb of Chavez allies, for a ruling on any possible postponement. He said in one case a mayor was given a three-month extension to their inauguration date.
Cabello is the third most powerful figure in the government after Chavez's heir apparent, Vice President Nicolas Maduro.
One constitutional law professor said Chavez's inability to begin his third term on January 10 would not automatically trigger new elections, as has been widely reported in media.
"The issue always ends up in a debate in parliament. It's the whole assembly that will decide" through a majority vote if the president is no longer fit for office, said Jose Vicente Haro of the Universidad Catolica Andres Bello in Caracas.
Opposition leaders decried Cabello's comments as a sign the Socialist Party could fiddle with succession rules to accommodate the president's recovery.
"The law guarantees order and peace. We must respect the constitution with no shortcuts because this could lead to anarchy, which nobody wants," said opposition legislator Hiram Gaviria. "There is no need for any interpretation by the Supreme Court."
Chavez himself raised the possibility of his incapacitation before leaving for Cuba, naming Maduro as his preferred successor and urging Venezuelans to vote for the former bus driver if there were a new presidential election.