Brazil raises minimum wage and lowers taxes on share earnings
Thursday, December 27th 2012 - 02:52 UTC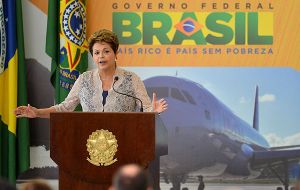 Brazil's government announced on Monday it would raise the statutory monthly minimum wage by an above-inflation 9% to 678 Reais (330 US dollars) a month, a rise that comes at the end of a year of tepid economic growth.
The government also said it would exempt from taxation up to 6,000 Reais from stock-market gains and profit-sharing plans, and announced new tax brackets setting out rates payable on gains larger than that. The highest would be 27.5% on earnings of 15,000 Reais or more.
The government of President Dilma Rousseff expects to forgo around 1.7 billion Reais in tax income as a result of the new exemptions.
Both measures, which were announced by the office of President Rousseff, will take effect on January first once they are published in the official journal. They must still be formally approved by Congress.
The increase in the minimum wage was higher than the 670.95 Reais that had been proposed in the government's draft budget for 2013, which was sent to Congress at the end of August.
Economists forecast 2012 consumer price inflation will come in at 5.7%.
Economists have stuck to their forecasts for Brazil's economic expansion this year but trimmed the outlook for growth in 2013, according to a weekly central bank survey showed on Monday. Estimates for 2012 and 2013 inflation were revised upwards.
Consumer prices should rise 5.69% in 2012, up from a forecast of 5.60% in the prior week, and 5.47% in 2013, up from an estimate of 5.42% previously. The government targets inflation at 4.5%, with a tolerance margin of 2 percentage points in each direction.