China's Industrial and Commercial bank, authorized to open a branch in Brazil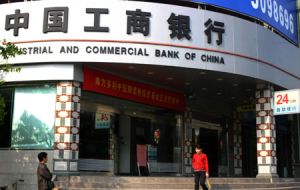 The Industrial and Commercial Bank of China Ltd, the world's largest lender by market value, got the green light from Brazilian regulators to operate a subsidiary in the Latin America's largest economy, the lender said on Wednesday. Brazil's central bank approved the license on Dec 19.
"The subsidiary will positively integrate itself into Brazil's financial market, and play a bigger role in facilitating bilateral trade and investment between the two countries, on the basis of ICBC's strong advantages in terms of clients, capital, network and technology," the lender said in a statement.
China is Brazil's largest trade partner, with an expected trade value of imports and exports reaching 95 billion dollars by the end of the year. According to data from Chinese customs, bilateral trade has grown by more than 40% since 2009.
"Closer economic ties between China and Brazil provide enormous potential for financial business. What's more, the upcoming 2014 World Cup and 2016 Olympic Games in Brazil will bring great business opportunities for our local subsidiary," ICBC said.
In mid December it was announced that government owned and the largest in the country in assets, Banco do Brasil received had received approval from China's regulator to open a commercial branch in the country.
Nevertheless before setting up business Banco do Brasil still needs further regulator approvals which could be forthcoming in 2013 said Banco do Brasil Paulo Rogelio Caffarelli, Senior Vice-president for international operations.