"Uruguay needs leaders in government, not demagogues" says transport businessman
Thursday, December 27th 2012 - 02:38 UTC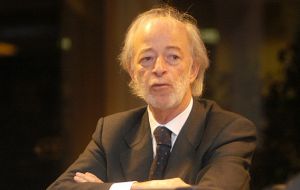 The country "needs leaders in government, not demagogues" said Juan Carlos López Mena a leading businessman of Uruguay's tourism and transport industry who is also investing heavily in agriculture and an incipient regional airline.
Argentine born but long established in Uruguay, Lopez Mena owns the ferries that link Montevideo and Colonia with Buenos Aires and is now involved in an airline BQB with a couple of turbo aircraft that fly between different cities in Uruguay and Argentina and beginning next year Paraguay.
"The government seems intent of replacing private sector companies that work efficiently with state funded inefficient companies" pointed out Lopez Mena who is involved in a dispute with the Uruguayan government over the huge connectivity 'black hole' for Montevideo, which has meant closing down six months ago the country's money losing flag air carrier Pluna. After several frustrated attempts to re-launch the airline with the private sector the Uruguayan government has finally supported the idea of a cooperative with the redundant staff.
López Mena was interested in taking over some of the regional lines of Pluna but a messy transition and repeated allegations of corruption ended with a situation worse than six months ago.
"If there are private companies that risk their capital, apply their know-how, innovations, which function with no subsidies and are efficient, very efficient, such is our case, why then replace them by companies created by the state which are inefficient and funded with millions and millions of dollars from government?" asked Lopez Mena in an interview with a local broadcasting stating that has great echo in Buenos Aires
"This is something which really discourages private investors" underlined the Argentine-Uruguayan businessman.
That is why "we need leaders in government, not demagogues, this is very important because we are in an open world and nowadays if you miss your target with bad results, the bill you will have to pay later will be very expensive", continued Lopez Mena.
For business people the rules are very clear: "there's no going back: or they make it or they go bust and lose everything. That is why they will also fight to the very end to defend their company and their investment".
Lopez Mena which has had a fluid relation with all Uruguayan governments no matter their political colour, was invited by Uruguayan president Jose Mujica to get involved in the auction of Pluna' Bombardier aircraft, routes and other assets.
However he desisted arguing that the price for the aircraft and conditions of the auction were out of touch with the world market. The President Mujica administration did not like his reaction and allegedly two top officials, including the Executive legal advisor visited Lopez Mena at his office and cautioned that his attitude "could have consequences for his businesses in Uruguay".
Since the closure of Uruguay's flag carrier Pluna was so sloppy and prone to suspicion and despite legislation to the effect approved by the ruling coalition majority in parliament, many aspects of the case have ended in the courts with several ministers, former private associates of Pluna and even Lopez Mena summoned for questioning.
"Companies must be rich and businesspeople must be poor, that is why in many cases we even have to put our homes as collateral for our businesses and I believe it is the State's job to watch over that, but business people must also be protected, but certainly not with subsidies, as this government seems to be intent in doing so", emphasized Lopez Mena.
"I believe businesspeople are the icons of any community. They must be respected; they are entrepreneurs that are born with that gift: there is not one university in the world that can give you a degree of 'successful businessman', of efficient businessman that accomplishes without subsidies".
Finally Lopez Mena complained that in Argentina and Uruguay, "businesspeople don't have a good press. And the truth is that they are the true revolutionaries because they help countries not to have poor people and don't promote the rich".
"It's very easy to eliminate the rich: I expropriate all they have and in 24 hours I make everybody poor, but what is really difficult is to make everybody a rich person. What does it mean to be rich? That people have a good living standard; that they live in private estates,…that is something tough, it's not easy, that's why businesspeople are the true revolutionaries".
"To be a true revolutionary means a lot of hard work, a lot of planning, distribute with intelligence, not demagoguery or cheap talk", concluded Lopez Mena.