Defaulted bonds: Argentina makes its case before the New York Appeals court
Friday, December 28th 2012 - 08:08 UTC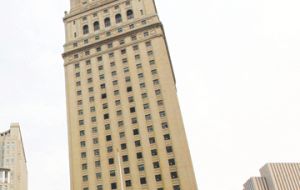 Argentina will be making a presentation before the US Court of Appeals for the second circuit, in Manhattan on Friday regarding Federal Judge Thomas Griesa recent ruling that Argentine defaulted bondholders must be paid simultaneously with those who accepted the restructured bonds.
The demand from the hedge funds or 'vulture funds' as the Argentine government calls them, involves 1.3 billion dollars and apparently Argentina will state that it is willing to reopen the debt restructuring process by temporarily suspending the so called Clamp Law.
According to the Buenos Aires financial media the terms of such a proposal were being discussed by officials from the administration of President Cristina Fernandez and the solicitors firm in New York, Cleary Gottlieb Steen & Hamilton.
Under the terms of the presentation Argentina would allow a new bonds' swap although in conditions less favourable than those in the previous two occasions in 2005 and 2010 which completed a restructuring of 93% of the total 2001 defaulted debt.
This way Argentina will try to neutralize Judge Griesa ruling that creditors were not treated in equal conditions (the pari passu clause) and thus ordered a full payment of the 1.3bn dollars demanded by the hedge funds.
Following a first appeal from Argentina the Appeals Court suspended Judge Griesa' decision which allowed the government of Cristina Fernandez to pay the restructured bond holders 3.5bn dollar according to schedule and no fears of impounding.
The US Appeals Court is now expected to listen to the hedge funds presentation on 25 January, while Argentina has a chance to reply on February first and finally the two sides meet in court on February 27.
The bondholder group, which includes Brevan Howard Asset Management LLP and AllianceBernstein LP, said in a court filing that interpretation by the New York state Court of Appeals is needed to determine whether Argentina must make payments on defaulted bonds when it pays holders of restructured debt.
The reading of the so-called pari passu clause also has "enormous consequences" for New York's financial services industry, the bondholders said in the filing on Thursday with the US Court of Appeals in Manhattan.
"Simply put, if the existing interpretation of the pari passu clause in this appeal stands, sovereigns and other issuers will at least think twice before using the law, legal system and financial services of New York, and may well choose to do business in other financial centres such as London or Singapore" the group said.