The spirit and roots of the Falklands in "Our Islands, Our History"
Saturday, December 29th 2012 - 15:34 UTC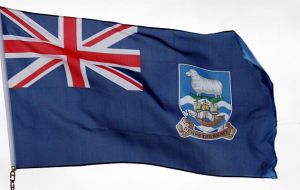 The Falkland Islands Government announced the completion of the booklet "Our Islands, Our History". The booklet provides a succinct and accessible summary of the key aspects of the history of the Falkland Islands, and of the people whose determination and character have forged them to a democratic, prosperous and dynamic community.
It is a companion to the popular "Our Islands, Our Home" booklet which was released earlier in the year.
"Our Islands, Our History" is available as a free digital download on the Falkland Islands Government website at midday on Friday 21st December. Hard copies will be available in late January.
In a brief introduction Leona Roberts, Manager of the Falkland Islands Museum and National Trust explains the purpose of the booklet.
What are the Falkland Islands? Who are Falkland Islanders and what does it mean to be a citizen of our country? These are questions which Islanders are asked frequently but to which there are no quick answers.
Our history goes some way towards explaining what it is to be a Falkland Islander. It is a fairly short history. Settlement is relatively recent: it began in the eighteen century and has only been continuous from the early nineteenth century. Unlike the Spanish and Portuguese colonial empires, we never had an indigenous population, so we have no ancient monuments or romantic mythologies to define our identity as Islanders. Other people have spun their own myths around our history and this explains why there are so many misconceptions about who we are and about our right to call the Falklands our home.
The series of events which serve as the foundations upon which the Falkland Islands were built are what Our Islands, Our History aims to set out. Our history is one of long periods of tranquillity, punctuated by flurries of complex activity. The events of the 1760s and 1770s are involved but, with the help of the time line running throughout this publication, hopefully comprehensible. The period 1820 to 1833 is also complex and further complicated by the tendency to weave nationalist myths around the basic narrative.
Although not a heavyweight reference document, this book is intended to explain to the interested reader how our diverse community has matured, embracing influences from the many nations whose sailors visited these shores or who settled in the Islands, developing a cultural identity all of our own, but always maintaining a close kinship with Britain. This close affinity with Britain and loyalty to the Crown remains today – perhaps not entirely fashionable to the rest of the modern world but a genuine element of our national identity.
This book is not a history of the events of 1982 as plenty of these exist already. But we are eternally grateful to the British forces that liberated our Islands from a brief but painful Argentine occupation; their sacrifice returned our freedom and secured our future and will never be forgotten.
Falkland Islanders are more than just the product of a set of historical dates and events. There are families which can proudly declare up to nine generations born in these Islands and we are truly a distinct people in our own right - proud to be 'Kelpers', the nickname our ancestors adopted generations ago, taken from the rich forests of seaweed (kelp) which surround our shores.
What this book cannot describe is that intangible element that binds us so inextricably to this subtly beautiful land. To try to grasp this you should read this book's companion volume – Our Islands, Our Home – or better yet, visit the Falklands and see for yourself...