YPF signs shale gas exploration deals with Pan American Energy and Bridas
Saturday, December 29th 2012 - 06:30 UTC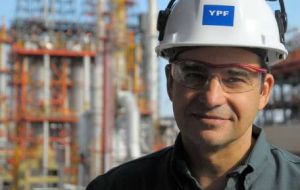 Argentina's nationalized oil and gas company YPF announced on Friday that Pan American Energy, PAE, would be investing 3.4bn dollars in gas production in the next five years while Bridas, belonging to the Bulgheroni brothers said it plans to invest 1.5bn dollars in the development of the non conventional shale deposits in Vaca Muerta.
The deal with PAE, which is partly owned by BP and Bridas, should provide a 4.3% increase in annual gas production from 2013 to 2017 said the Argentine government.
"The agreement with PAE means a fiscal savings of 4.3bn dollars and will help avoid having to invest 6.8bn dollars in gas and liquid fuel imports", said Federal Planning minister Julio De Vido.
He added that under the terms of the deal in four to five years Argentina will have recovered 20 million cubic metres of gas, which must be added to the 40 million already recovered by YPF.
Under the terms of the agreement with the Bulgheroni brothers, Bridas will drill 130 wells in 2013 and 2014 under a pilot program in the Vaca Muerta formation in Neuquen, followed by as many as 1000 additional wells, YPF Chief Executive Miguel Galuccio said at a press conference.
The agreement would see YPF eventually transfer a 50% interest in two areas that together comprise 663 square kilometres in Vaca Muerta, which is home to most of Argentina's shale oil and gas deposits.
As part of Friday's agreement, the Bulgheroni companies will also obtain 500 million dollars in financing for YPF to fund further investment in the areas the two companies will develop together. In a stock market filing, YPF said it signed the agreement with Bridas International SA, which has links to the rest of the Bulgheroni empire and China's Cnooc Ltd.
The Bulgheroni family controls Bridas Energy Holdings, BEH, and has a stake in Bridas Corp--a joint venture between BEH and Cnooc. YPF partnership with the Bulgheroni family comes less than two weeks after it announced a similar arrangement with US Chevron Corp.
That agreement would see Chevron and YPF spend about 1 billion dollars to drill 100 wells in a 290-square-kilometer area in Vaca Muerta. The results of that pilot program will help the companies finalize plans to drill an estimated 2,000 wells for about 15 billion.
In recent months the former Schlumberger Ltd. executive has met with Statoil, CNOOC Ltd. and other foreign oil companies to test the waters for potential investment or partnerships.
President Cristina Fernandez is seeking outside investment and technical expertise to make Argentina energy self-sufficient once again after years of declining production and reserves turned the country into a net energy importer.
In May Cristina Fernandez formally seized a 51% stake in YPF from Spain's Repsol SA in a dispute over investment. The Argentine president accused the Spanish company of siphoning capital out of YPF and failing to invest enough in its operations. Repsol has denied those accusations and is seeking about 10 billion dollars in compensation for its YPF shares.
Earlier this year, CEO Galuccio said YPF has the means to invest 24.7 billion from its own pocket through 2017, with that figure rising to 40.4 billion, if it can sign joint ventures and get outside financing.
CEO Galuccio also defended the 6% average increase in fuel prices arguing they will continue along the year since they are the main source of financing for the investments YPF needs to make.
"If we want to continue investing, we have to continue increasing prices but in a logic and reasonable way" said CEO Galuccio.
Since June YPF has increased fuel prices at the pump three times accumulating 40% in the twelve months of 2012. Premium gasoline is selling at over a US dollar per litre.