Opinion polls anticipate a windfall re-election vote for Correa in Ecuador
Thursday, January 3rd 2013 - 20:24 UTC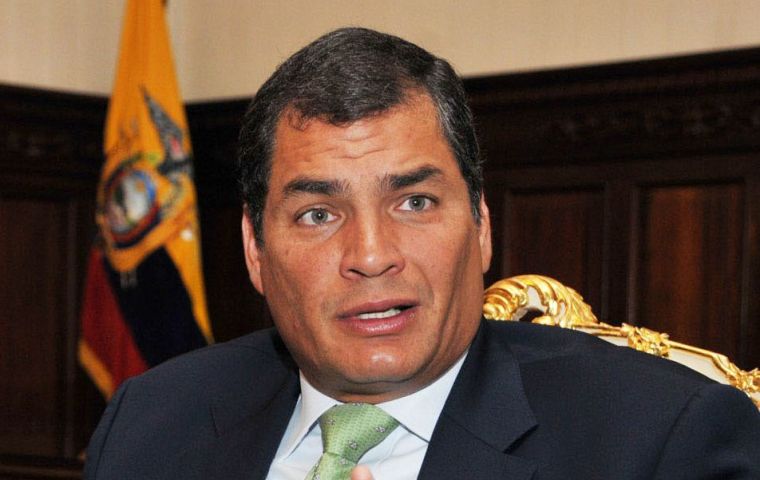 President Rafael Correa has 60.6% of vote intention ahead of the February Executive and Legislative elections, which virtually ensures his re-election. He is followed by runner up and banker Guillermo Lasso with only 11.2% according to the latest public opinion poll release from Perfiles de Opinion.
"In an electoral process you can never give as a fact what polls show months or weeks ahead but currently the percentage support of Correa ensures his victory in the first round next February", said Paulina Recalde head of the polling company.
Presidential and legislative elections are scheduled for next 17 February and if no candidate manages 50% of the vote a run off takes place 7 April. The national opinion poll was completed before Christmas with a plus/minus 1.4 percentage point error margin.
"Correa's hard core vote in the ruling party Alianza Pais was 87% while for Lasso it reached 64% in his Creating Opportunities party", pointed out Recalde.
Of the other presidential hopefuls only two, former president Lucio Gutierrez and Alberto Acosta have a vote intention of 4.5% and 3.5% while the rest of candidates don't make it to the threshold of 2%.
The poll also included a perception of the current situation of Ecuador compared to five years ago and 72% said it 'had improved'; 17% that it remains unchanged; 11% consider the situation worse and 1% did not reply.
As to the future, a majority, 60% believe the situation of the country "will improve"; 24% it will remain unchanged while 10% forecasted worse times ahead. Only 5% said they could not anticipate the future.
Based on this data Recalde said that elections will be held in Ecuador "when the country is going through a period of high expectations and a positive acknowledgement of the last five years".
In the country's two main cities, Quito the capital and Guayaquil, the perception is that the situation has improved in the last five years (2007) when Correa first took office. This is supported by a positive feeling of 85%. Likewise 77% in both cities said they believed and trusted President Correa.
However the weak points of the Correa administration remain security (law and order) and unemployment.
Internationally if Correa's re-election is confirmed by an overwhelming victory, the Ecuadorian president could become the natural leader of the group of anti-US, anti-capitalism nations currently under the umbrella of the charismatic Venezuelan president Hugo Chavez who is fighting for his life in a Havana hospital.