Uruguay exports in 2012 reach 8.7bn dollars, a new numerical record
Thursday, January 3rd 2013 - 15:46 UTC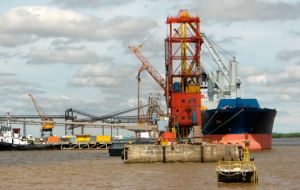 Uruguay exports increased 9% last year over 2011 reaching 8.751 billion dollars a numerical historic record according to the primary figures released by the Instituto Uruguay XXI, a government funded organization to promote foreign trade. Soybeans, beef and rice remain as Uruguay's main export items.
The Institute points out that if exports from free trade zones are also included, "the total volume for 2012 jumps to 9.83bn dollars", which means the free trade zones represent 11% of Uruguay's total exports.
However the report also points out that the export of goods during December dropped 5.9% compared to the same month in 2011. The December eroding tendency is a repeat of previous months: November (down 4%), September (6%) and April (1%) compared to the same periods of 2011.
Brazil, China, the Nueva Palmira Free Zone and Argentina were the main trade partners of Uruguay last year. Sales to Brazil reached 1.746bn dollars, up 6.4% over 2011. China absorbed 916 million dollars, up 22% over the previous year mainly because of higher soybean prices. This was followed by Nueva Palmira free trade zone and Argentina.
Argentina which usually figures in second or third place as Uruguay's trade partner, ranked fourth because of the protectionist measures implemented by the administration of President Cristina Fernandez which meant a drop of 14.7% in sales.
Uruguay's exports in 2011 totalled just over 8bn dollars and in 2010 had reached 6.8bn dollars.