Argentina gains a new ally in its fight against hedge funds: WEF' Schwab
Monday, January 7th 2013 - 14:14 UTC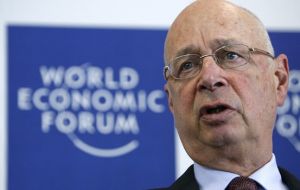 Argentina's worldwide court battles against the hedge funds which did not accept the restructuring of its defaulted debt and are after the country's assets, has gained another ally, the president of the World Economic Forum, (WEF) Klaus Schwab.

This comes in addition to the US Attorney for the Southern District of New York Preetinder Singh "Preet" Bharara who in an amicus curiae brief said the US Second Circuit Court of Appeals to which he wrote, featured a "novel interpretation" that is "incorrect and adverse to the US' policy interests."

In an interview with the Swiss daily Sonntags Zeitung, Schwab president of the Davos WEF has asked for more international financial regulations arguing there are many sectors excluded, such is the case of the 'speculative funds' (hedge funds or 'vulture funds', according to Argentine jargon).

"We are still missing rules that limit crazy drivers at full speed driving along the financial highways" said Schwab regarding the current economic slowdown and warned that "we can run into a new accident any moment".

Schwab added that the new international rules agreed at Basel III which force banks to hold more provisions are an advance "but not enough".

"There are still many sectors excluded such as the speculative funds (hedge funds), and we need new international rules" added the finance expert.

The next Davos WEF is scheduled to take place from January 23 to 27 in Switzerland and will be hosting over forty heads of state and government, said Schwab in the interview.

However Schwab admitted that the world's leading economies representatives could probably not be attending in full force since China has recently undergone its ten year major reshuffle and President Barak Obama is in the process of naming his new cabinet.

It is a fact that Treasury Secretary Timothy Geithner is stepping down.

Furthermore the other major powerhouse Germany might not be represented by Chancellor Angela Merkel who this year faces federal elections.

Nevertheless the complete list of attendants is to be published mid January.

Schwab started the Davos economic international forum in 1971.

In New York US Attorney in Manhattan, Preetinder Singh "Preet" whose office has nailed some seventy people, including a number of hedge fund managers and analysts is adding his voice to the fray over Argentine debt. He has joined the chorus urging an appeals court to rule against NML Capital from Elliott Associates.

In an amicus curiae brief, Bharara wrote that the lower-court judge erred when he ordered Argentina to pay holdouts from its 2001 default before it paid those bondholders who accepted Argentina's debt exchanges, and a serious haircut, in 2005 and 2010.

Bharara said the ruling, which has already been upheld by the US Second Circuit Court of Appeals to which he wrote, featured a "novel interpretation" that is "incorrect and adverse to the US' policy interests."

Some 92% of defaulted debt-holders accepted the exchange. Elliott affiliate NML Capital and fellow hedge fund Aurelius Capital Management did not, and have won a number of recent court rulings against Argentina.

For its part, Argentina has both promised to abide by the US rulings and to take its fight all the way to the Supreme Court, and vowed never to pay the holdouts.

Bharara isn't alone in joining the fight against Elliott: BlackRock CEO Larry Fink also chimed in, following Alliance Bernstein, Brevan Howard Asset Management and a number of hedge funds which own the restructured debt.