Euro-zone unemployment up for 19th month running; Spain with record 26.6%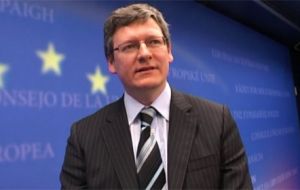 The unemployment rate across the troubled Euro zone hit 11.8% in November, up from 11.7% in October, with the number of people out of work in the 17-nation single currency area now nudging 19 million. Spain again recorded the highest with 26.6% and 57% for the under-25s.
The 19th rise in a row for the Euro zone, home to some 330 million people, represented an increase of more than two million on the dole compared to a year ago.
While the jobless numbers exceeded 26 million for the first time across the full 27-member European Union, which includes Britain and Poland, the EU as a whole recorded an unchanged 10.7% unemployment rate.
Indeed, there were more jobless over the past year, according to Eurostat data, in the 17-nation Euro zone, where the number of newly unemployed was 2.015 million, compared to 2.012 million for the EU.
Facing a bust property boom and riddled with bad debt in its banks, Spain recorded the highest unemployment rate of all the European countries at 26.6%, worse even than bailed-out Greece. Among under-25s, both countries saw unemployment rates hovering around 57%.
According to Eurostat figures seasonally-adjusted for comparative purposes, the November unemployment rate in key rival economies was 7.8%for the United States and 4.1% for Japan.
"2012 has been another very bad year for Europe in terms of unemployment and the deteriorating social situation," said European Commissioner for Employment, Social Affairs and Inclusion Laszlo Andor.
Giving his annual report on employment trends, he said that "appropriate labour market reforms and improvements in the design of welfare systems" could make countries more resilient to economic shocks.
But with a north-south divide between Germany and similar satellite economies faring far better than Europe's southern Mediterranean rim, Andor said it was "unlikely that Europe will see much socio-economic improvement in 2013."
"A widening gap is emerging," Andor said, even between the north and south just of the Euro zone.
The Commission concluded there was a divergence between "countries that seem trapped in a downward spiral of falling output, fast-rising unemployment and eroding disposable incomes, and those that have so far shown good or at least some resilience."
Southern and peripheral countries whose governments and companies face much higher interest rates or no access to market financing will continue to struggle, the Commission said, citing an over-allocation of lending during the construction boom of the last decade.