Falklands have become a nation that "shares with Uruguay common memories and times to come"
Tuesday, January 8th 2013 - 07:14 UTC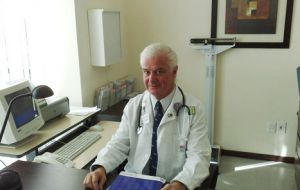 By Dr. Jorge Stanham, MBE - The British Hospital in Montevideo has a long established relation with the Falkland Islands going back over a century.
Director Dr Jorge Stanham, MBE, recently back from a trip to the Falklands after almost eleven years, said he was impressed by what he saw but above all by the assertiveness of the Islanders and the feeling that they have become a nation, owners of their future: "They owned their future. They were a nation. A nation that not only shares the same continent as Uruguay, but common memories and times to come".
The complete column published in the The British Society, Uruguay, "Back to the Falkland Islands" follows:
After nearly 11 years, I was invited to the Falklands for a second visit. This time, the week I would spend there had more to do with medical matters than tourism. I was to work with the local healthcare authorities on Uruguay's and especially the British Hospital's capacity to ably respond to the urgent and immediate needs of critical patients, as we have done in the past. The changes that have happened in the past decade in the South Atlantic also required that we jointly update our medical relationship with the islands, which has existed for the greater part of the last hundred years.
This time I would travel in November, as opposed to my first visit, which took place in February. I expected the weather to be cooler this time and I searched www.AccuWeather.com for the information. It took me longer than expected to find the Falkland Islands in the website, but eventually discovered them under 'South America'. Even with the long detour flight via Santiago and Punta Arenas and then to Mount Pleasant airfield, I was to remain within the South American region during all of my trip.
It takes virtually 24 hours from home in Montevideo to Stanley. Mount Pleasant airfield is about 60 km west of the islands' capital, a van trip of about one hour, to be added to the duration of the flight times, not counting an overnight stay in Santiago. The flight climaxes on its last short 1:15 hour leg, from Punta Arenas to the Falklands, when the westernmost reaches of West Falkland appear on the window: barren, with very few roads and a house or settlement every now and then.
Once on the ground, I took the van ride to Stanley, enjoying the rolling hills, the inlets, the 'stone runs', the distant view of settlements and signs of scattered human activity, on a virtually treeless landscape. I got off the van and into the hotel, appropriately named the Waterfront, on Ross Road, close to the landing wharf, overlooking Stanley harbour. Once in my room, I was initially distressed to find that neither my cellphone was detecting any station in roaming mode nor was my iPad finding any wi-fi signal. Although I did solve it by inserting a local Cable & Wireless SIM card and using prepaid cards, the connection was reliable mainly for local calls and brief e-mail exchanges. The feeling of a relative unconnected ness contributed enormously to the enjoyment of my stay: this was to be a very special trip.
Fortunately, I had visited the camp in both East and West Falkland during my previous trip. This time I saw again the penguin colonies at Volunteer Point with Patrick Watts and one afternoon I biked myself 10 km and back to Gipsy Cove - under wind and hail. With a significant part of time spent in meetings, lunches, suppers and receptions, I stayed mostly in Stanley, walking along the streets and taking many pictures of the houses. But what I most enjoyed was meeting with people, both young and old, listening to firsthand experiences of living in this incredible place in the South Atlantic.
Many of the older people had been in Uruguay, as they had travelled to Montevideo on the 'Darwin'. Some of them had received treatment in the British Hospital and shared their memories of their stay there and expressed admiration and thankfulness for those who had cared for them: Dr Rafael García- Capurro, Dr José Russi (senior) and Dr Jorge Stanham (my father). I also met patients and parents of patients who had been evacuated by air for critical care at the British Hospital and had been under my direct care or supervision. Some had been high school students at the British Schools and have continued to travel to Montevideo to meet old friends, to tour the city and the
resorts... plus enjoying a good asado. In shops, the supermarket and pubs, I met people who greeted me as 'the visiting doctor from Uruguay' and expressed their appreciation for my presence there. I was made aware by these stories how much Uruguay means to the Falklanders and what we have and continue to share as communities. Beyond the medical link that was the reason for my visit, the Falklands and Uruguay have other links that are open to nurture: culture, sport, education, travel and our common sheep-rearing technology. Someday, a direct air-link will bring us as close as less than a three-hour flight.
What surprised me most during this visit was evident before a few hours had passed since my arrival. Something had changed. Something was different. It wasn't the same feeling I had when I had been there more than a decade ago. It wasn't the landscape; it wasn't the constructions: it was the people. They were less defensive and fearful. They were happier. They were more assertive. They owned their future. They were a nation. A nation that not only shares the same continent as Uruguay, but common memories and times to come.